Press Statement
SAMSN, IFJ demand concrete action to end impunity in South Asia
02 Nov, 2017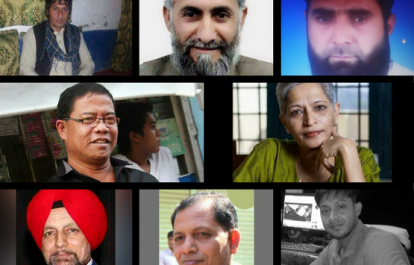 The South Asia Media Solidarity Network (SAMSN) and the International Federation of Journalists (IFJ) demanded concrete action from the governments of South Asia to end impunity for crimes against journalists. South Asia has failed to provide justice for hundreds of journalists and media workers who have been killed merely for carrying out their duties.
On the UN International Day to End Impunity for Crimes Against Journalists, the IFJ called for strengthening the international legal framework and national protection mechanisms to ensure greater media safety. The IFJ launched a campaign end impunity focusing on seven countries including Afghanistan and Pakistan in South Asia. Other countries where the IFJ is focusing are Mexico, Iraq, Yemen, Somalia, and Ukraine.
The SAMSN said: "Afghanistan and Pakistan have seen hundreds of journalists and media workers killed in the line of duty, yet prosecution is rare with only a handful of cases resolved. The governments of Afghanistan and Pakistan, despite repeatedly committing to end impunity for crimes against journalists have failed miserably, thus creating a situation where journalists have to work under constant threat."
"The failure to resolve cases of killings of journalists has created a state of lawlessness in both Afghanistan and Pakistan and perpetrators fear nothing while killing journalists to silence them. This should stop as soon as possible to ensure an independent and vibrant media, which is a prerequisite for a vibrant democracy."
South Asia is the deadliest region in the world for journalists with the killing of 319 journalists and media staff since 2000. Pakistan has seen 110 killings and Afghanistan 57. According to the IFJ Killed List, 40 journalists and media staffs have been killed in the region in 2017 and 2018.
Both Afghanistan and Pakistan have long been among the most dangerous countries in the world for journalists. Since 2010, 73 journalists and media workers have lost their lives in Pakistan; and 39 journalists and media workers in Afghanistan. Armed insurgency, sectarian violence, criminal gangs and government agencies are responsible for those deaths. Sadly, both Afghanistan and Pakistan have so far recorded only three convictions each.
"With hundreds of murders, and no justice in most of the cases, impunity is rife in South Asia," the SAMSN added. "South Asian states have failed to provide adequate security for journalists, and shown reluctance to investigate killings and introduce stronger legal frameworks."
The IFJ Asia Pacific, in coordination with its affiliates and SAMSN partners, is launching the annual three-week End Impunity Campaign to advocate for justice and actions on attacks against media workers. The campaign launches today and will run until November 23, the 8th anniversary of the Ampatuan Massacre in the Philippines.
IFJ President Philippe Leruth said: "The levels of violence in journalism around the world make a mockery of the high-minded intentions behind initiatives such as the UN Day to end impunity. As long as they are not acted upon by holding accountable those who commit these crimes, there will remain an open season on journalists and media professionals."
Photo: The faces of the journalists and media workers killed in the Asia Pacific region this year. Credit: IFJ, AIJA, PFUJ, BMSF, IJU, NUJI, NUJP
Written By

IFJ Asia-Pacific
The IFJ represents more than 600,000 journalists in 140 countries.
For further information contact IFJ Asia-Pacific on +61 2 9333 0946
Find the IFJ on Twitter: @ifjasiapacific
Find the IFJ on Facebook: www.facebook.com/IFJAsiaPacific
Comments