IFJ End Impunity Campaign, 2015
IMPUNITY: n. without punishment, without consequence
"This campaign is reminding the world that journalists do matter. They have families who love them, they are mums and dads, ordinary people; all carrying out the important and increasingly dangerous duty to keep society informed. But for every reporter threatened, for every life extinguished, democracy also suffers the ultimate price."  
Journalists across the Asia-Pacific continue to be harassed, threatened, tortured, intimidated, jailed and worse for exercising their basic right to report and inform. Most crimes go unpunished.
This November, the International Federation of Journalists (IFJ) asks you to join and support our regional campaign against impunity for attacks on journalists and media workers.
Due to their ongoing high level of killings and impunity levels, the IFJ Asia-Pacific will this year continue to focus on Pakistan and the Philippines as well as highlighting impunity issues in other countries in the region over 22 days.
In the Asia-Pacific last year, a journalist was killed at the rate of one every ten days. 
This year the IFJ AP is going to look at impunity in all its forms and how this stifles press freedom and restricts journalists across the region. The campaign will address the issue of justice denied for media across the Asia Pacific.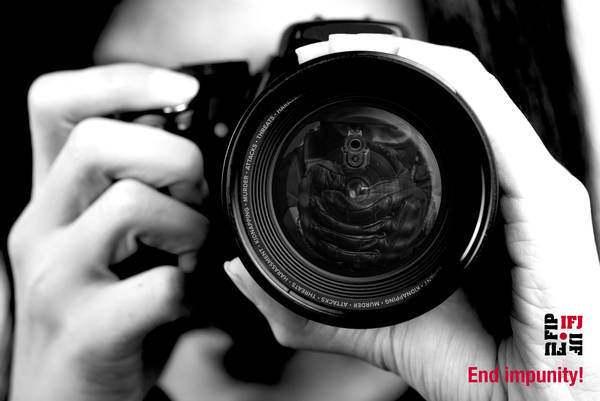 How can you get involved? 
1.      Write a letter to governments calling for action.
The Philippines, Pakistan and India are the three focus countries for the IFJ AP campaign for 2015, although we will promote action of each country as requested by affiliates. We encourage each affiliate to write a letter to the governments of these countries calling for action on the issue of impunity for crimes against journalists.
Sample letters will be available in coming days. 
2.      Join the social media campaign and call for action
Use social media to promote the impunity campaign using the #EndImpunity and #IFJ for campaigns and related activities and material.
Following on the 2014 #whatareyoudoing? campaign, this year we are asking people to share images of country leaders using the hashtag #whatareyoudoing? 
Pakistan Prime Minister, Nawaz Sharif 
India Prime Minister, Narendra Modi
Maldives President, Abdulla Yameen
Afghanistan President, Ashraf Ghani
Philippines President, Benigno Aquino III
Indonesia President, Joko Widodo
Cambodia Prime Minister, Hun Sen
Sri Lanka President, Maithripala Sirisena
Bangladesh Prime Minister, Sheikh Hasina
Nepal President, Bidhya Devi Bhandari
Uttar Pradesh Chief Minister, Akhilesh Yadav
Share your voice on impunity – using the #EndImpunity. Below is a sample image that can be developed on Canva (www.canva.com) 
Follow last years #whatareyoudoing? campaign and take pictures calling your leader to account. 
3.      Support the IFJ global and AP regional campaign
This year the IFJ will focus on a different theme/issue each week to draw attention to the wide scope of impunity and crimes against journalists. (For the IFJ Global campaign see Appendix III)
Week 1 – November 2-9 – Call governments to account
Focus: Philippines, Pakistan and India throughout the campaign
These countries remain the deadliest and most dangerous for journalists across the Asia-Pacific region. Each year the IFJ calls on the governments to end impunity, yet little action has been done.
Action: Write a letter to each of these country's governments calling for action – sample letters available on IFJ website
Pakistan: Pakistan has long been among the most dangerous countries in the world for journalists as 95 journalists and media workers have lost their lives since 2005. From 2010 to 2014, 61 journalists and media workers were killed – its one journalist killed every month.
India: India is the largest democracy in the world given its huge population and also without a major armed conflict. Yet, its record on punishing the murderers of journalists is so dismal that it has been listed every year in the Committee to Protect Journalists (CPJ) Impunity Index since 2008. With 31 murders of journalists since 2010 and 83 since 1990, and without justice in most of the cases, impunity is rife in India. This year already, 6 journalists have been killed.
Philippines: Since 1986 over 180 journalists and media workers have been brutally murdered in the Philippines. November 23, 2009 remains the single deadliest day for journalists worldwide, when 32 journalists were among 58 people brutally killed in a political attack in Mindanao in the southern Philippines. Not a single person has been charged for the biggest massacre of journalists in history. Since then, another 40 journalists have been killed. Philippine President, – Benigno Aquino III, summed up the culture of impunity in the Philippines in 2010 during a press conference with US President Barack Obama at the White House when he said: ""Perhaps we are very sensitive to personal relationships by the people who are deceased, who are killed not because of professional activities but, shall we say, other issues."
Week 2 – November 10-16 – Missing journalists in the Asia Pacific
Focus: To launch this new initiative the IFJ will focus on 12 missing journalists across the Asia Pacific region
Draw attention to the missing journalists across the AP region and call for action on their cases and investigations. The IFJ will launch in collaboration with IFEX, the IFJ missing journalist list, Without a trace. The list will document the case of each journalist missing in the Asia-Pacific.
Action: Launch the IFJ missing journalist list, share the profiles on the missing journalists and call for action  
Social media: use #IFJmissing
Week 3: November 17-23 – Killings and safety
Focus: Journalists continued to be killed across the region – focus on the Philippines and India
In 2014, the Asia-Pacific region was the deadliest region across the globe for journalists with 39 killings. In 2015, so far 86 journalists have been killed worldwide, 23 of which are from the Asia Pacific. In India, six journalists have been killed this year – and Uttar Pradesh is fast becoming a hot spot for violence against journalists, with 3 murders.
Since the release of UNESCO Director-General's report The Safety of Journalists and the Issue of Impunity (Appendix II), a number of UN member states who are mentioned, have not responded. In the Asia Pacific region that includes:
The following member-states responded, but the issue of impunity remains:
Afghanistan in 2012

Bangladesh in 2012

India in 2012

Myanmar in 2012
Action: Advocate for the murders in India – write to the Uttar Pradesh government calling for action. Write to the government's of country's listed above calling for action on their promise to advocate for journalist rights. Publish the suggested IFEX Op-Ed piece (Appendix I).
"Writers stop writing. Reporters stop reporting. People stop expressing themselves, and that diminishes democracy."
Visit the IFJ global campaign page to download the campaign materials
 Stay in touch with activities by:
Liking the IFJ AP page https://www.facebook.com/IFJAsiaPacific?fref=ts h
Follow us on Twitter @ifjasiapacific
Email us at ifj(at)ifj-asia(dot)org
Social media #EndImpunity #IFJ #NoImpunity #IFJmissing