India
Cartooning as activism
10 Jun, 2015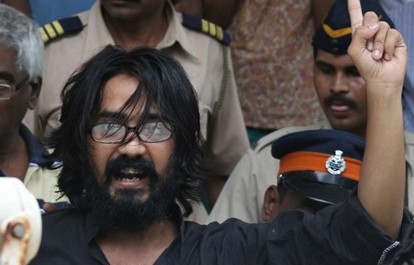 Cartooning is a blend of journalism and art. Much like the editorial write-up of in a newspaper where the editor expresses views on certain issues, an editorial cartoonist has freedom to express views through cartoons and, importantly, freedom to advocate for what he or she thinks is right. Remember, cartooning is always about exaggeration. This exaggeration is what makes it powerful, because it gives more strength to advocate and also has the ability to offend the other side too!
When I used to work for newspapers, I couldn't draw anything that could offend someone or some community. The editors checked the cartoon each day and whenever they found something deemed 'offensive', it had to be changed. The same still happens with my cartoonist friends who work for some media organizations. The thing is that once you understand the limits of free speech that your organization follows, you start following it yourself and here comes the most dangerous form of censorship, that is self-censorship. When you start following those boundaries, the incredible power of this art disappears or becomes very limited.
But the things go different, when you refuse to accept boundaries. This is possible in independent cartooning only. Though you may fall into great troubles and there may be no-one to save you, it is only this way you experience the immense full freedom of speech. The limit is up to you. Cartoons directs satire in a visual medium that can spread fast through social media platforms, making them handy and very capable for campaigning and activism.
I took the path to activism in 2011 when I started campaigning through my cartoons. I started 'Cartoons Against Corruption', a campaign to support a wider national anti-corruption movement in India and uploaded my cartoons on the internet to speak out against official graft. The Mumbai police subsequently banned my website during a hunger strike of the movement in December 2011. Then, in September 2012, they arrested me on three charges: sedition, insulting national symbols and Section 66A of the IT Act. According to section 66A, any person who sends information that is deemed 'offensive' through communication devices like phones and computers shall be punished with imprisonment for a term which may extend to three years with fine
But I also received a lot of support from every part of the country. Many artists, activists and politicians criticized my unlawful arrest. After spending four days behind bars, I was granted bail from the High Court. Finally this year, two charges were dropped from my case. The Bombay High Court dropped the charge of sedition on March 17, 2015 and the Supreme Court of India scrapped Section 66A of the IT Act on March 24.
Section 66A was frequently used by the government to silence bloggers and social media users. We observed regular incidents of such arrests and most of the cases filed under this section were politically motivated and were acts of revenge. This Act earned a very negative response from the public but the government issued guidelines instead of scrapping it though all of these guidelines failed to stop the misuse of the law. Finally, judgement on a Public Interest Litigation (PIL) filed in 2012 against this notorious section was served as the Supreme Court declared it to be unconstitutional and scrapped it finally.
So now while I'm feeling much relief, the charge of insulting national symbols is still there and I await the summons from the court.
Free speech is not very easy to get in India and you may have to pay a high price for it. With its blend of religions and communities, people can get upset quite easily and any art work that hurts the sentiments of the citizens can be banned anytime. Many books, movies and paintings have to struggle with the culture of banning that operates here. Even the BBC documentary India's Daughters, based on the December 2011 Delhi gang rape case, was banned by the government in March though many of us failed to find anything objectionable in it. So, here the cartoonist knows the limits. Self-censorship is an idea that works best and keeps you safe from threats and the legal cases.
After the attack on the satirical Charlie Hebdo magazine in Paris in January, the Mumbai police blocked over 650 posts on social media within 24 hours of the attack. The editor of an Urdu newspaper was arrested for reprinting a Charlie Hebdo cartoon after the massacre, while other media houses were busy in extending their support and solidarity over the killing. But the support was quite hypocritical. Here in India, the government removes the cartoons of Shankar Pillai (considered to be the grandfather of Indian cartooning) from text books due to community protests. The greatest Indian painter M.F.Hussain had to die in exile due to a lot of troubles for him and his paintings. In this country, where we couldn't protect the free speech of our greatest artists ever, how we can we protect that of any ordinary artist?
After my arrest, I stayed away from cartooning for two years for of many reasons. But I resumed cartooning after the attack on Charlie Hebdo by drawing a caricature of the prophet Muhammad. I thought it was my responsibility as a cartoonist to show my solidarity for the cartoonists who were among those killed during the attack.
In May, I launched Black & White, a monthly online cartoon magazine of resistance. Through these cartoons, I hope to highlight freedom of expression issues by publishing a series of cartoons, focusing on activists, bloggers, writers and journalists who are being targeted for their work. The vision is to create a platform where cartoonists from all over the world can raise their voice on their local issues and use their art to contribute for a better world blessed with free speech, equality and justice.
In the first issue, I've published the first 25 cartoons from 'A Cartoon Against Every Lash', a campaign for Raif Badawi. Raif is a Saudi Arabian blogger, activist and the creator of the website Free Saudi Liberals. He was arrested in 2012 on a charge of insulting Islam through electronic channels and brought to court on several charges including apostasy. I learned about him through twitter when I observed the campaign against flogging. I got in touch with his wife Ensaf Haider and decided to start a campaign for him.
He was sentenced to seven years in prison and 600 lashes in 2013, then re-sentenced to 1,000 lashes and 10 years in prison as well as a fine in 2014. The lashes were to be carried out over 20 weeks. The first 50 were administered on January 9, 2015. The second set has so far been postponed. When I heard about the 50 lashes he received, I decided to make a cartoon against each of them.
Today cartoonists are facing troubles in every part of the world; they are facing harassment and censorship. Right now in Malaysia, the cartoonist Zunar is facing a sentence of 43 years for sedition charges. In Iran, Atena Fargudhani, a young artist and activist, has been arrested for drawing a cartoon against a law that would severely restrict birth control for both men and women.
I believe we need some mechanism to help cartoonists in trouble not only through these tough times but also to protect our right to freedom of expression.
Through cartooning activism, we give them a voice through art.
Aseem Trivedi is an independent cartoonist and free speech activist from India. He was co-recipient of the 'Courage in Editorial Cartooning Award 2012' of Virginia based Cartoonists Rights Network International and he was also nominated for the 'Freedom of Expression Awards 2013' by free speech organisation Index on Censorship. Read the first issue of Black and White here. You can also tweet him @aseem_trivedi.
All cartoons by Aseem Trivedi
 You can find more information on Section 66A HERE
Written By
Comments