Impunity
Challenging Impunity in India
31 Dec, 2016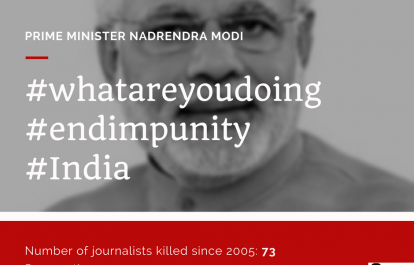 In 2016, six journalists lost their lives in India and the hitherto unremitting spiral of impunity that shrouds each death is a chilling indicator of the overall state of press freedom in India, touted as the world's largest democracy.
On February 13, 2016, Karun Mishra was shot dead in Sultanpur, in Uttar Pradesh, Akhilesh Pratap Singh (alias Indradeo Yadav) was shot dead in Chhatra, Jharkhand on May 12, Rajdeo Ranjan was shot dead in Siwan in Bihar on May 13 and Dharmendra Singh was shot dead in Sasaram in Bihar on November 12. Police claimed that property disputes, not professional reasons, claimed the lives of two other journalists – Kishore Dave in Junagadh in Gujarat on August 22 and Kewal Krishan in Dhuri in Punjab on October 20.
In all these killings, some arrests have been made, thanks in some part to better media attention and protests by local journalist bodies, especially after the macabre death of Jagendra Singh in Shahjahanpur in Uttar Pradesh last year. But with poor investigations and sluggish follow-ups, the current near-zero conviction rate will remain and the political and business mafias that sponsor most of these killings will get away scot free, yet again.
Already beleaguered by unequal contractual and highly compromised working conditions, journalists and the media organisations they serve must hold accountable everyone who threatens their freedom to work without fear or favour. Only then will we see a change in the impunity index.
—
Impunity: a handy, one-size-fits-all term to describe the non-existent rate of convictions in the killings of journalists in India. But how bad is it really? How do the cases of the killing of journalists in India really end? In Augst, five persons were arrested for the killing of Rajdeo Ranjan which was encouraging but will it end in a conviction? Given the abysmal track record of convictions in such cases so far,  what can we expect?
Since 2010, 25 journalists have lost their lives. The rate of conviction: one.
Over the years, a total of 30 persons have been arrested in nine cases. A CBI investigation was ordered in six cases, but hasn't yielded any result in five cases. In three cases, the respective state governments appointed special investigative teams and one case yielded some results. In only one case, the lower courts acquitted the two prime accused and awarded life imprisonment to another, but the higher courts granted bail and an appeal is pending against the conviction.
In the absence of any justice, there is no closure for families of those killed. Generally, the trajectory of the cases, with some variations, is fairly predictable:
Stage 1: The news of the killing – Often, there is poor information on the actual incident with a few days elapsing before the news is reported in some cases. In some instances, there are protests by local journalists and journalists' organisations. In others, doubts are privately and publicly expressed about the deceased's identity as a journalist and media organisations may even distance themselves from the slain journalist.
Stage 2: Police investigation – The police in their initial statements say the murder may not be for 'professional' reasons and that they were investigating a 'personal' angle. They say that the motive is unclear.
Stage 3: SIT or CBI investigation – Depending on the pressure by journalists' organisations or civil society, the government and administration will issue statements promising an investigation and appointing a special team for the purpose. A CBI inquiry will be ordered by the state government or instituted following a court order.
Stage 4: Arrests – Sometimes, there are arrests. Invariably, the main accused goes missing. There is a drop in media attention or any follow-up on the case.
Stage 5: A trial – In some instances, a charges are filed and a trial commences, proceeding interminably without any conclusion.
Stage 6: A dead end – No convictions, no progress in investigations. In some cases, there are no arrests, in others, the lower court proceedings may end in acquittals.
The three deaths of journalists in the first half of this year, including the two in May, will also in all probability following this sequence and are currently at different stages. Karun Mishra, who was killed on February 13 in Sultanpur, Uttar Pradesh is at stage 4, as is the case of Akhilesh Pratap Singh who was killed on May 12 in Chhatra, Jharkhand while the case of Rajdeo Ranjan, killed on May 13 in Siwan, Bihar, is now also at  stage 4.
Let's take a quick look at the progress in the deaths of journalists from 2010:
Sr.No.
Name and synopsis
Date of death
Place
Stage of investigation
Stage
         1
Hem Chandra Pandey, freelancer, killed in encounter
02.07.10
Andhra Pradesh
no arrests; CBI probe on
3
         2
Bimala Prasad Talukdar, editor, Swatantra Avaaz
04.09.10
Hojai, Nagaon district, Assam
no arrests
6
         3
Sushil Pathak, Dainik Bhaskar
20.12.10
Bilaspur, Chhattisgarh
no arrests; CBI probe
3
         4
Umesh Rajput, correspondent, Nai Dunia;
23.01.11
Chhura village, Raipur, Chhattisgarh
no arrests; CBI probe
3
         5
Jyotirmoy Dey, Midday
11.06.11
Mumbai, Maharashtra
10 arrested; trial on
5
         6
Chandrika Rai, Navbharat, Hitavada killed with family
18.02.12
Umaria, Bhopal
1 arrest; CBI probe, chargesheet filed
3
         7
Rajesh Mishra, owner-editor, Hindi paper Media Raj
01.03.12
Rewa, Madhya Pradesh
arrests 3, 2 acquittals,1 conviction,  appeal
5
         8
Chaitali Santra, freelance journalist
26.09.12
Howrah, Kolkata, West Bengal
four arrests
4
         9
Thangjam Dwijamani Singh, Prime News channel
23.12.12
Imphal, Manipur
no arrests; suspended police back on duty
6
       10
Nemi Chand Jain, freelance journalist
12.02.13
Chhattisgarh
no arrests
6
       11
Jitendra Singh, stringer, Prabhat Khabhar
27.04.13
Murhu block in Khuntidistin Jharkhand,
no arrests
6
       12
Rakesh Sharma, Aaj
23.08.13
Etawah, Uttar Pradesh
no arrests; FIR names five persons
6
       13
Rajesh Verma, IBN 7 channel
07.09.13
Muzaffarnagar, UP
no arrests; SIT closes case
6
       14
Hemant Yadav, TV24 news channel
03.10.13
Dheena area of Chandauli district,UP
no arrests
6
       15
Sai Reddy, contributor, Deshbandhu
06.12.13
Bijapurdist, Chhattisgarh
no arrests; Maoists admit killing
6
       16
Tarun Acharya, Kanak TV, Sambad,
27.05.14
Khallikote, Ganjam district, Odisha
5 of 6 accused arrested
4
       17
MVN Shankar, Andhra Prabha
26.11.14
Guntur,

Andhra Pradesh

two arrests; trial may commence
4
       18
Jagendra Singh, social media journalist

08.06.15
Shahjahanpur district, UP
no arrests; CBI probe announced
4
       19
Sandeep Kothari, freelance journalist
20.06.2015
Balaghat, Madhya Pradesh
Seven arrests
4
       20
Akshay Singh, Aaj Tak  channel
04.07.15
Meghnagar, Madhya Pradesh
no arrests; CBI probe on
3
       21
Karun Misra, Jansandesh Times

13.02.16
Sultanpur,

UP

two  arrests
4
 22
Akhilesh Pratap Singh, freelancer
12.05.16
Chhatra, Jharkhand
one arrest
4
  23
Rajdeo Ranjan, Hindustan

13.05.16
Siwan, Bihar
five arrests; CBI probe ordered
4
1. Stage 3 – CBI enquiry; petition pending before the Supreme Court: Hem Chandra Pandey (Hemant Pandey), freelance journalist, shot dead along with Maoist leader Cherakuri Rajkumar alias 'Azad', in an encounter on July 2, 2010, in Andhra Pradesh. Initial reports were unclear about whether Pandey was a  journalist and why he was with Azad. Police described him as a colleague of the Maoist leader and a press release by the Communist Party's north regional bureau identifying him as a member of the party added to the confusion.
However, his wife, Vinita Pandey, maintained that he was a journalist and had gone to meet Azad to interview him. Journalists' organisations also raised "serious doubts about the circumstances" of Pandey's death and demanded an independent inquiry. Meanwhile, the Communist Party issued a statement saying that its claim that Pandey was a member was erroneous. The party had mistakenly assumed that the person killed along with Azad was a colleague.
In January 2011, the Supreme Court issued a notice to the Union and Andhra Pradesh government to respond to a petition filed by Vinita Pandey and social activist Swami Agnivesh, who termed the killing of both men a 'fake' encounter.
Justice Aftab Alam, hearing the petition, observed that 'Our Republic cannot bear the stain to kill its own children'. In April 2011, the Supreme Court ordered a CBI investigation into the 'encounter'. A year later, the CBI, in a final report submitted to the Supreme Court, said that the killing was a 'real' encounter.
The CBI was given three months to give a final report to the Supreme Court but this has been extended.
2. Stage 6 – Dead end: Bimala Prasad Talukdar, editor of Swatantra Azad, was killed on September 4, 2010 at Hojai in Nagaon district of Assam. A senior journalist, he was returning home when he was attacked. He used to write on corruption. According to journalists in Assam, there has been no progress in his case.
3. Stage 3 – CBI enquiry: Umesh Rajput, a correspondent with Nai Dunia was killed on January 23, 2011, in Chhura village of Raipur, Chhattisgarh. Rajput had filed a story reporting the death of an adivasi woman due to the alleged medical negligence of a doctor who operated on her eyes. He was threatened by the doctor. Ten days later, he was shot dead. The police initially refused to accept that his death was related to his work and even the newspaper he worked for refused to acknowledge his contribution.
Rajput's brother Parmeshwar embarked on an incredibly tenacious struggle to secure justice. His efforts, aided by Advocate Sudha Bharadwaj, finally bore fruit when the Madhya Pradesh High Court ordered a CBI enquiry into the killing on December 17, 2014. But Parmeshwar's struggle is far from over. Twice a CBI team visited the village to probe the death, collected all the information all over again and summoned Parmeshwar to Raipur. But he has no idea about the progress of the investigation. The accused, meanwhile, still roam the area.
4. Stage 3 – CBI enquiry: Sushil Pathak, senior journalist with Dainik Bhaskar shot dead in Bilaspur, Chhattisgarh, December 20, 2010. The police initially put out a story that he may be been killed because of some real estate interests. It was only after sustained protests by journalist unions as well as opposition parties that Chhattisgarh Chief Minister Raman Singh acceded to a CBI inquiry  three months after his death. Pathak's wife has no idea about what progress has been made.
5. Stage 5 – A trial: Jyotirmoy Dey, crime reporter for Midday newspaper was shot dead by two persons on a motorbike on June 11, 2011, in Powai, Mumbai. Nationwide protests followed and police investigations resulted in charges against ten persons, including underworld gangster Chhota Rajan and a journalist, Jigna Vora. The police charged the latter with professional rivalry and said she had instigated the gangster to organize Dey's killing.
Vora was arrested in November 2011 for allegedly playing a part in the conspiracy to kill him. In July 2012, Vora was granted bail on a surety of Rs 1 lakh and subject to several conditions, including a bar on speaking to the media.  In June 2015, a special court of the Maharashtra Control of Organised Crime Act (MCOCA) framed charges against ten accused, including Vora and Rajan (real name: Rajendra Sadashiv Nikalje). Rajan was deported from Bali to India in November 2015. In January 2016, a CBI team interrogated Rajan after being given special permission to do so by the MCOCA court.
The case continues.
6. Stage 3 – CBI enquiry: Chandrika Rai, a journalist who reported for Navbharat and The Hitavada was brutally killed along with his wife and children on February 18, 2012, in Umaria, Bhopal. Initially, the police pinned the blame on Rai's driver, Ramesh Yadav, even alleging that Yadav had tried to steal Rai's ATM card.
However, local journalists as well as Rai's family, refused to buy this explanation and demanded a probe into the killing. Rai, they said, was a well known journalist and had made a mark with his reporting.
In January 2014, almost two years after the murder, a division bench of the Madhya Pradesh High Court ordered a CBI inquiry into the killing. Rai's younger brother Mithilesh, who questioned the shoddy police investigation, moved the court requesting a CBI probe to unravel the truth.
The division bench stayed the trial in the Sessions court and ruled that the CBI should file a new chargesheet. In May 2015, the CBI arrested a contractor, Dharnit Singh, a resident of Shehdol district, in connection with the murder. In August 2015, the CBI filed a chargesheet against three accused.
7. Stage 5 – A trial (Sessions court orders one conviction, two acquittals; high court grants bail and appeal pending on conviction: Rajesh Mishra, editor of a small Hindi newspaper called Media Raj was killed by two persons in a particularly brutal manner on March 1, 2012, in Rewa, Madhya Pradesh. He was assaulted with an iron rod at a tea stall in full view of the public. Mishra had been writing a series of reports about a school run by Rajneesh Banerjee who also owned and edited another small newspaper called Vindhya Bharat. The police were prompt in arresting Banerjee, Vindhya Bharat editor Anil Tripathi and two other employees.
After a trial, Banerjee was convicted of murder by a sessions court in Rewa and awarded life imprisonment. In January 2015, following an appeal for suspension of his sentence, the Madhya Pradesh High Court granted him bail. In an order, Justices Rajendra Menon and S. K. Gangele said that the main evidence against him were two letters written by the deceased expressing apprehension that Banerjee would kill him. However, the judges said this was insufficient to be taken as a dying declaration and that 'Merely because certain apprehension is made, it cannot be a material for assuming that the appellant has convicted the offence'.
When contacted by The Hoot, Banerjee said that his sentence of conviction was suspended and he was granted bail. "I was in my office at that time (when Mishra was attacked and killed), yet I was convicted". The other accused, Anil Tripathi, was acquitted, he said, adding that there were no eye-witnesses to the assault and other witnesses had turned hostile. Banerjee added that he was confident he would also be acquitted since a doctor's report said that Mishra was drunk at the time.
8. Stage 5 – A trial: Chaitali Santra, a freelance journalist who wrote for a small website called 'Julm se Jung', was killed by a parcel bomb delivered to her residence on September 26, 2012, in Howrah, Kolkata.
In October 2012, police claimed to have cracked the case, arresting Abhishek Roy, Bishwajit Majhi, and Shubhankar Das.  Police said that the alleged mastermind, identified as Debashish Dey, was arrested a day later from Ratnagiri, Maharashtra and remanded in custody. They said that Santra was also a social activist as well as a journalist and had helped Dey's wife by giving given evidence against him in a marital dispute case. Dey, in retaliation, gave a contract to Das to kill the journalist.
9. Stage 6 – Dead end: Thangjam Dwijamani Singh, alias Nanao Singh, who worked with Prime News channel, was shot dead by security forces in December 23, 2012, in Imphal, Manipur. The police opened fire to quell a rioting mob on the second day of an indefinite strike in Manipur to protest against the alleged sexual harassment of film actress Momoko by NSCN(IM) militant Livingstone Anal during a musical concert in Chandel district on December 18.
Singh was covering the protest when the police opened fire. He tried to take cover behind a pillar but took a bullet on his chest. According to fellow camera person Bijoy Krishna, the firing was deliberate and the police had targeted the journalist even as people were attacking the police truck.
On December 23, 2012, the All Manipur Working Journalists' Union (AMWJU) and the State Government signed a Memorandum of Understanding in connection with Singh's death. The MOU provided for an immediate suspension of the police personnel involved in the firing, pending an enquiry into the incident, providing financial assistance to the deceased's family, and the framing of separate media policies for the welfare of journalists as well as for journalists on duty in such conflict situations.
According to reports, a committee chaired by Principal Secretary (Home) Dr J. Suresh Babu, ADGP (L&O) L.M. Khaute and AMWJU president A. Mobi was set up to inquire into the incident and submit its report within three days.
On the same day, the State Government suspended ASI K. Romendro Singh and Driver Constable KhNaba-Kumar Singh, pending a departmental proceeding, and disengaged eight Village Defence Force (VDF) personnel in connection with the case.
According to office-bearers of the AMWJU, there were no further proceedings in the case against the police officers and there were fears that they resumed duty after a brief period of suspension. Attempts to confirm this from L.M. Khaute,   the ADGP, Law and Order, came to nothing as he refused to respond to queries.
10. Stage 5 – A trial: Freelance journalistNemi Chand Jain was killed in Chhattisgarh  on  February 12, 2013, allegedly by a Maoist group who said he was a police informer.
A month later, a Maoist group apologized for the killing, calling it a 'mistake'. The police said that five persons were accused of Jain's murder and announced a reward of Rs 50,000 for more information. On December 25, 2013, they arrested Banjami Sanna and on July 24, 2014, arrested another accused, Baman Mandavi. Two days later, Sukma police arrested Santosh Mandavi and Mangdu Sodi, saying they were both Maoists and they had received a tip-off about their visit to a village.
11. Stage 6 – Dead end: Jitendra Singh, a stringer for Prabhat Khabhar was gunned down on April 27, 2013, in Murhu block in Khunti district in Jharkhand, allegedly by activists of the People's Liberation Front of India (PLFI), an insurgency group operating in the area. Singh also undertook civil contract works to supplement his income as a journalist. There are conflicting reports over his death. The police said he used to report on the breakaway Maoist group for the past 16 years and a note found in his pocket signed by the PLFI said he was killed because he was working in the area without their approval. Another report said there was a dispute between Singh and members of the PLFI over the payment of a levy for a road construction project in the area.
12. Stage 6 – Dead end: Rakesh Sharma, a reporter with Hindi newspaper Aaj, was killed by five persons in August 23, 2013 in Etawah, Uttar Pradesh.  He was travelling home from a meeting when five persons – identified as Mohit, Sitaram, Tinku, Jacky alias Somnath and Ramshesh alias Kaykay, all residents of Harrajpur village in Etawah district, allegedly attacked him. An FIR was lodged naming all five. Local journalists protested against the murder and the police said a manhunt had been launched, but there have been no arrests to date.
The police claimed the murder was the result of an old enmity but local journalists maintained that he was killed because he was reporting on criminal gangs that operated in the district. Incidentally, Etawah is the home district of UP Chief Minister Akhilesh Yadav.
13. Stage 6 – Dead end: Rajesh Verma, a correspondent with the broadcast channel IBN 7, was killed on September 7, 2013, during the riots that broke out in Muzaffarnagar, Uttar Pradesh.
In February 2016, a Special Investigation Team (SIT) appointed to probe cases related to the Muzaffarnagar riots filed a closure report in Verma's killing. The SIT report said that the accused remained unidentified and was filed in the court of the Chief Judicial Magistrate Narendra Kumar. The court has issued a notice to the brother of the deceased journalist to give him a chance to file any objection to the closure report.
14. Stage 6 – Dead end: Hemant Yadav, a journalist with TV24 news channel, was killed by unidentified persons on October 3, 2015, in Dheena area of Chandauli district, Uttar Pradesh. The motorcycle-borne gunmen opened fire on Yadav as he was returning home. Police have not made any arrests so far.
15. Stage 6 – Dead end: Sai Reddy, a senior journalist who contributed to Deshbandhu, was killed by Maoists in December 6, 2013, in Bijapur district of Chhattisgarh. While there were no arrests in his case, there was some admission of guilt from the Maoists.
Barely four months later, the highest decision making body of the Maoist party expressed regret for the killing, in what was considered a surprising admission by those in the know.  A press statement issued on April 8, 2014, said that there was a 'misunderstanding' between the cadres and the party leadership, which led to the killing. The statement by the party's spokesperson Abhay, said that a decision was taken to kill Sai Reddy for his 'anti-people' writings. However, after police arrested Sai Reddy in 2008 on suspicion of being a Maoist, the party changed its perception of hi. But this revised perception was not conveyed to the local party cadres, who killed him, the statement said.
16. Stage 5 – A trial: Tarun Kumar Acharya of Kanak TV and Sambad newspaper, was killed on May 27, 2014, in Odisha, India. Initially, the police attributed the killing to a personal dispute. Local journalists' organisations staged protests and forced the police to investigate the case more thoroughly. It later transpired that he had filed reports of child exploitation in a small cashew-processing plant.
According to reports, of the six accused named in the chargesheet, four have been arrested: Sibaram Nayak, owner of the cashew-processing unit, Shyamsundar Prusty, Suresh Chandra Sahu and contract killer Ramesh Reddy. One more accused, Nrusingha Panda, is still at large. Gupta Mohakud, the Superintendent of Police, Ganjam district, said that Panda was outside Odisha and the police had not been able to obtain a mobile trail for him. "But the trial process in the case will proceed and a senior lawyer, Santosh Kumar, has been appointed as a Special Public Prosecutor in the case," he said.
17. Stage 3 – a special team appointed: M.V.N. Shankar, a journalist with Telugu daily Andhra Prabha was killed on November 26, 2014, in Guntur in Andhra Pradesh. Again, obtaining authentic information about the killing was a challenge and even local journalist unions and organisations had no idea why he was killed. Subsequently, it was established that Shankar, the honorary president of the local press club, had written a series of stories exposing scams in the public distribution system. He even lodged a complaint with Guntur police seeking action against errant food dealers. He is said to have provided police with a list of dealers involved in selling subsidized food items.
The Andhra Pradesh Home Minister, Nimmakayala China Rajappa, had directed the police to form a special team to catch the offenders and had promised justice to the family of the victim. Superintendent of Police, Guntur (Rural) Narayan Naik told The Hoot that a person had been arrested in connection with the killing and a chargesheet filed. He promised more details but wouldn't pick up the phone afterwards.
18. Stage 6 – Dead end: Jagendra Singh, killed by immolation on June 8, 2015, in Shahjahanpur district, Uttar Pradesh, India. The case rocked the country due to the dramatic nature of the crime and the fact that a video of the journalist accusing UP Minister of Dairy Development, Ram Murti Verma, of instigating the killing went viral. The case went through possibly every stage – from denial that he was a journalist, demands from the family for a CBI probe, a suspension of the police present when he was burnt, a forensic report that said his burns were self-inflicted, compensation of Rs 30 lakhs for his death awarded by the UP government to his family – and finally, a total blank. No chargesheet. No arrests.
19. Stage 3 – CBI enquiry: Akshay Singh, journalist with Aaj Tak television channel, collapsed and died suddenly in the midst of interviewing the father of a Vyapam scam victim on July 4, 2015, in Meghnagar, Madhya Pradesh. With the Vyapam scam claiming several lives, the death of the journalist from unexplained causes resulted in protests and demands for a CBI enquiry.
In September, 2015, the CBI collected Singh's medical reports from his family to ascertain whether he had any pre-existing medical condition. In February 2016, the CBI formed two separate medical boards to investigate this death and that of Namrata Damor, a Vyapam-scam victim. The investigating officers in both cases filed closure reports but senior officers rejected them. Now, the medical boards will review these reports.
20. Stage 4 – arrests: Sandeep Kothari, a freelance journalist, was abducted from Balaghat district of Madhya Pradesh and taken across the state border to Wardha District, Maharashtra where he was beaten and set on fire on June 19 or 20, 2015. Kothari, a well-known journalist in the area, had been reporting on illegal mining and land grabbing. He had had 19 cases foisted on him by various persons against whom he had reported.
Following protests by his family and colleagues, the Madhya Pradesh government appointed a special investigation team to probe his death. In all, the police arrested seven persons in connection with the killing. In July, 2015, they  arrested the prime accused, Rakesh Naswani. The police said that Naswani, along with Vishal Dandi and Brijesh Duharwal, who came from Katangi, had allegedly kidnapped Kothari and set him ablaze. The trio were engaged in illegal mining and running chit fund companies.
21. Stage 4 – arrests:  Karun Misra, a reporter with Jansandesh Times, was killed on February 13, 2016, in Sultanpur, Uttar Pradesh, India. On February 21, 2016, Uttar Pradesh Special Task Force arrested two persons, Anand Singh and Kesari Upadhyay. They were allegedly contract killers. Motive: unclear 
22. Stage 4 – arrests: Akhilesh Pratap Singh, known locally as Indradev Yadav, killed on 12 May, 2016 in Chhatra, Jharkhand allegedly over a dispute on the payment of a levy for a civil works contract. The police arrest an aide of BJP MLA Ganesh Ganjhu 
23. Stage 4 – Arrests and CBI enquiry: Rajdeo Ranjan, bureau chief of Hindi newspaper Hindustan, shot dead on 13 May, 2016 in Siwan, Bihar, allegedly at the behest of jailed Rashtriya Janata Dal leader Mohammad Shahabuddin; a CBI probe has been announced but hasn't started yet. Meanwhile, five persons have been arrested.
Geeta Seshu is an independent journalist and consulting editor at the Hoot.
(Reproduced with permission from www.thehoot.org)
Written By
Comments