Press Statement
Concerns for media safety in Sri Lanka amid political crisis
29 Oct, 2018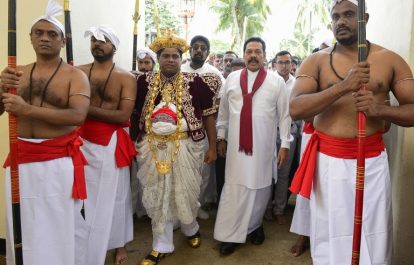 Newsrooms of the state-owned media in Sri Lanka were targeted and editorial staff harassed following the controversial appointment of former president Mahinda Rajapaksha as the new Prime Minister by President Maithripala Sirisena on October 26, 2018. The International Federation of Journalists (IFJ) joins its affiliate the Sri Lanka Working Journalists Association (SLWJA) to expressing serious concerns over the implications of ongoing political situation on media and journalists; and urges all to uphold press freedom, editorial independence and journalists' rights.
After Mahinda Rajapaksha was sworn-in on October 26, members of the unions loyal to Rajapaksha's Sri Lanka Podujana Peramuna (SLPP) moved in to take control of state-owned institutions. Senior editorial staff at the Sri Lanka Rupavahini Corporation (SLRC), the Independent Television Network (ITN), the Sri Lanka Broadcasting Corporation (SLBC) and the Associated Newspapers of Ceylon Limited (ANCL) kept away from the offices.
According to reports, a group of SLPP loyalists within ANCL barged into the layout section of the Daily News on October 26 night and changed the layout telling that they were acting under orders from the PM's office. Similarly, the staff at the Sunday Observer, were pressured to publish a story of Rajapaksa being sworn in, and warned not to report any stories regarding Wickremesinghe. Senior journalists at the paper had tweeted protest against it.
At ITN, several journalists were also forced out. Subash Jayawardena, ITN's Deputy General Manager (DGM) – News and Current Affairs, told the Sunday Times: "I was warned to leave… As we were leaving in the office vehicle, we were stopped at the gate by Rajapaksa supporters who ordered us out of the vehicle, shouting that our time was done. However, some other ITN staff members intervened and they managed to help us leave the premises safely."
The government announced appointments of new acting chairs at state media institutions, including Wasanthapriya Ramanayake at the Associated Newspapers of Ceylon Limited (ANCL), Dr. Somarathna Dissanayake at ITN and Sri Lanka Broadcasting Corporation (SLBC) and Sarath Kongahage at Rupavahini Corporation (SLRC).
Duminda Sampath, the SLWJA President, said: "The SLWJA has been reported that the state media institutions have been attacked outsiders and interfered their works illegally and unethically, and sacked the journalists… the SLWJA strongly condemn the ongoing harassment of the journalists."
The SLWJA also called for unity among journalists for their career, pride and protection of journalists reminding all of the proud history of journalists who bravely performed their duties despite difficult political situation.
The IFJ said: "The IFJ is seriously concerned by the ongoing political crisis in Sri Lanka, and the harassment of journalists at the state media institutions by politically motivated members. Upholding press freedom, editorial independence and journalists' rights is a basic component of a democracy and the IFJ urges all to respect it, and ensure that the pillar of democracy is not affected."
Photo: Sri Lanka's former president and new prime minister Mahinda Rajapakse arrives at the Temple of the Sacred Tooth Relic in Kandy on October 28, 2018. Credit: LAKRUWAN WANNIARACHCHI / AFP 
Written By

IFJ Asia-Pacific
The IFJ represents more than 600,000 journalists in 140 countries.
For further information contact IFJ Asia-Pacific on +61 2 9333 0946
Find the IFJ on Twitter: @ifjasiapacific
Find the IFJ on Facebook: www.facebook.com/IFJAsiaPacific
Comments