Attacks on Media
Dangers of reporting in Pakistan's tribal areas
03 Feb, 2016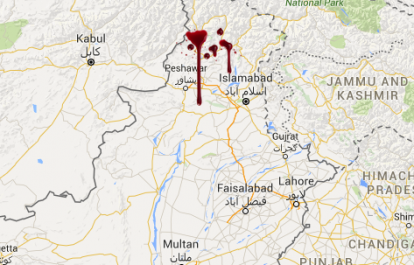 Senior Tribal journalist and former president of Tribal Union of Journalists Zaman Mehsud was shot and killed a day after Pakistani journalists observed International Day to End Impunity for Crimes against Journalists in November, 2015. [Since Mehsud's murder, three more journalists have been killed in tribal areas of Pakistan, two of them in January 2016].
Zaman Mehsud who hailed from South Waziristan was shot in Tank, located in the southern district in Khyber Pakhtunkhwa the north-western province of Pakistan. According to reports, outlawed Tehreek-e-Taliban Pakistan (TTP) claimed responsibility of this murder.
Zaman Mehsud like other journalists working in Khyber Pakhtunkhwa's tribal areas was also facing threats. In an interview with The News International in 2014, Mehsud had said "Reporters in the tribal areas, especially in the South and North Waziristan, often have to walk a tightrope between the army and the various factions of the Taliban. You cannot offend any of these groups, because all of them are armed and dangerous".
According to a report released by the Pakistan Press Foundation (PPF), at least 71 journalists have been killed in Pakistan since 2001. The report said 21 journalists and media workers were murdered in Balochistan, the southwestern province of the country; 19 in Khyber Pakhtunkhwa; nine in the Federally Administered Tribal Areas (FATA); 15 in Sindh, the Southeastern province; four in Punjab and three in Pakistan's capital Islamabad. [According to the IFJ's annual report, The Freedom Frontier: Press Freedom in South Asia 2014-15, 26 journalists were killed in KP/FATA areas from 20013 to 2014.]
Mehsud's colleagues say that the veteran journalist was receiving threats after he had written story for an Urdu newspaper; however, they refused to name the newspaper and discuss the story.
Another senior tribal journalist and former president of Tribal Union of Journalist, Safdar Dawar, termed reporting from FATA as 'reporting from the lake full of crocodiles'.
He said Mehsud was the 14th journalist to be killed in the FATA area. "Many of my colleagues have not only left the profession but their homes in the Tribal areas as well, after they were tortured and threatened by militant groups".
Dawar further added that the Taliban get annoyed when reporters refuse to cover their statements and publish them. When journalists, threatened by life threats, cover their side of the story they have to fend the volley questions from the government.
He said that the government has categorically told journalists not to cover Taliban-related news but failed to protect journalists.
Mirroring Dawar, Islamuddin Sajid, another journalist based in Khyber Pakhtunkhwa, said that reporters who are reporting from the combat zones regularly receive threats from militant groups who want them to take the Taliban views on ongoing operation related stories.
However he added that "Although the government is responsible for the security of journalists but media houses are equally responsible because reporters work for them. When they get threats from militants, media houses do nothing for their protection and leave them at the mercy of the militants".
It is generally felt in the journalist community in Pakistan, especially journalists working in dangerous areas, that the people who attack and kill journalists enjoy some kind of impunity in Pakistan, which is undermining the freedom of expression in the country.
So far the authorities have only convicted the killers of two journalists.
Although many murdered journalists go unsung, Saleem Shahzad was honoured by Reporters Sans Frontieres in November 2015 when a street was named after him in Paris. Shahzad was tortured and murdered by unknown people in May 2011. A judicial commission was formed to investigate his killing but unfortunately nothing came out of this.
In 2014, Islamabad based journalist Hamid Mir came under attack by unknown gunmen in Karachi as he travelled from the airport to his office. His attackers are still at large even after the Prime Minister of Pakistan; Nawaz Sharif constituted a Judicial Inquiry commission to probe the attack.
So far the Pakistani government has been unable to curb crimes against journalists. But with the rise in crimes against journalists there is a dire need that the government, media houses and journalists' unions join forces and device a plan to tackle this problem to give protection to journalists.
The writer is a journalist who works on crimes, social issues and terrorism and tweets at @Roohan2Ahmed
Written By
Comments