Press Statement
Deadly weekend in Afghanistan, journalist safety under attack
22 Jan, 2018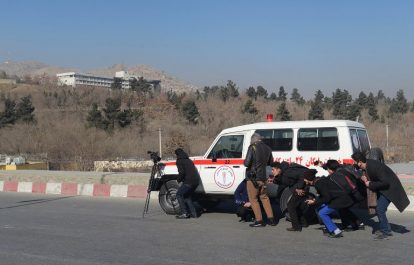 The International Federation of Journalists (IFJ) and its affiliate the Afghan Independent Journalists' Association (AIJA) raise serious concerns about the deteriorating safety situation in Afghanistan after three separate attacks across the country. The IFJ demands swift action from Afghan authorities to punish the perpetrators and ensure safety for journalists in the country.
On January 21, a vehicle carrying a ream from Radio Television Afghanistan (RTA) was attacked in Batikot district of Nangrahar province in eastern Afghanistan. The driver was killed while journalist Baz Shinwary and cameraperson Mohamad Rafiq were seriously injured when an armed group opened fire on their car. The RTA team was returning to provincial capital Jalalabad from Ghani Khalil district after covering a program attended by the district governor. The driver received several bullets and died on the spot. The two journalists also received a few bullets on the upper part of their bodies causing serious injuries.
The injured journalists were immediately rushed to Nangrahar Central Hospital in a critical condition and later in the evening, shifted to NDS Hospital in Kabul on request of the AIJA for security reasons and better treatment.
In another attack on January 21 evening, unidentified armed group burnt down Radio Saday-e-Adalat destroying all equipment and the building in capital Firuzkoh of Ghor province, central Afghanistan.
AIJA President Samandar Khan said: "The AIJA leadership condemns the attacks in strong words and calls upon the government for immediate investigation and requests different sides of Afghanwar to treat journalists as civilians."
The IFJ said: "The IFJ is saddened by the attack that injured two colleagues and killed their driver in Nangrahar province of Afghanistan. The recent trend of attacks on media houses in Afghanistan is worrying and a threat to independent journalism. The IFJ urges the Afghanauthorities to investigate the incidents to punish the perpetrators and also to ensure safety and security of journalists and media houses."
The IFJ is also concerned about the security situation amidst targeted attacks on civilians in capital Kabul. The latest attack on January 20 which killed at least 18 people and still counting, was at the Intercontinental Hotel, Kabul where the IFJ had hosted a workshop for Afghan journalists in 2016.
Photo: Afghan journalists covering the attack on the Intercontinental Hotel in Kabul from afar. Credit: Shah Marai/AFP
Written By

IFJ Asia-Pacific
The IFJ represents more than 600,000 journalists in 140 countries.
For further information contact IFJ Asia-Pacific on +61 2 9333 0946
Find the IFJ on Twitter: @ifjasiapacific
Find the IFJ on Facebook: www.facebook.com/IFJAsiaPacific
Comments