Press Statement
Death threats to Pakistani journalist for reporting on religious minorities
08 Jun, 2017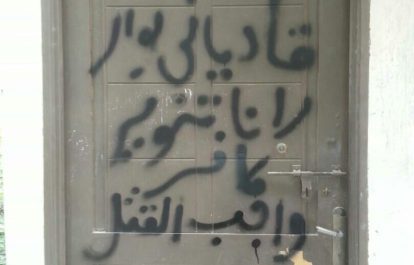 The International Federation of Journalists (IFJ) condemns the death threats to Lahore based journalist Rana Tanveer which followed his writing about religious minorities in Pakistan. The IFJ urges the Pakistan government to ensure security to the journalist and launch an investigation into the case.
Rana Tanveer, senior reporter with the Express Tribune newspaper, said that he found his home vandalized and the door painted with a threat that reads, "Qadiani nawaz Rana Tanveer kafir wajib ul qatl, (Qadiani supporter Rana Tanveer is an unbeliever who deserves to be killed)". His landlord had also received calls from unknown numbers asking to evict him calling him an 'enemy of Islam'.
Qadiani is a derogatory term for Ahmadi, a minority Muslim community, which faces discrimination and attacks as militants consider them a heretical sect. Tanveer has passionately covered issues relating to religious minorities and human rights. The journalist has reported the threats to the police, but claims that the police has shown little interest and has not even registered the case.
Bilal Farooqi, news editor at the Express Tribune, tweeted: "Government must provide security to journalist Rana Tanveer. Extremists vandalize his house, declare him Kafir (non-believer) for writing on Ahmadi issues."
The IFJ said: "The IFJ condemns the death threats and harassment to journalist Rana Tanveer and urges the Pakistan government to ensure his safety by providing him security and investigating the threats. Pakistan is one of the most dangerous countries for the journalists, and incidents of press freedom violations need to be properly investigated to ensure that journalists remain safe."
Written By

IFJ Asia-Pacific
The IFJ represents more than 600,000 journalists in 140 countries.
For further information contact IFJ Asia-Pacific on +61 2 9333 0946
Find the IFJ on Twitter: @ifjasiapacific
Find the IFJ on Facebook: www.facebook.com/IFJAsiaPacific
Comments