Press Statement
Defamation lawsuit filed over reports of corruption in Nepal
05 Sep, 2017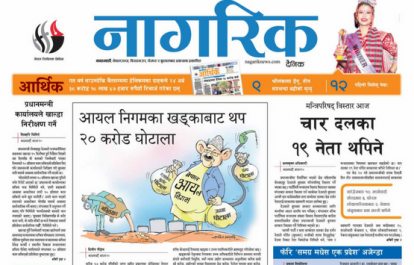 The International Federation of Journalists (IFJ) joins its affiliates the Federation of Nepali Journalists (FNJ) and the Nepal Press Union (NPU) in expressing serious concern over the defamation lawsuit intended to silence a daily newspaper in Kathmandu. The IFJ believes the court will issue an exemplary verdict protecting the press freedom.
Gopal Khadka, the Managing Director of state-owned Nepal Oil Corporation (NOC) filed a defamation case against Nagarik daily, claiming Rs 800 million (US$ 780,000) in damages on August 17, 2017. The Kathmandu District Court official served a notice to the daily's directors Binod Raj Gyawali and Shova Gyawali, editor-in-chief Guna Raj Luintel and correspondent Dilip Paudel on September 1.
Nagarik daily has published a series of investigative stories on corruption involved in the procurement of land by NOC in various parts of the country, the daily's sister publication Republica reported. A parliamentary probe committee has investigated the issue and concluded that procurement procedures were not followed in purchase of the lands.
Ramesh Bista, the FNJ General Secretary, said: "The FNJ respects Khadka's right to file the case in the court. However, the case seems to be intended to discourage reporting against corruption, create chilling effect in media, and burden financial difficulties to the media and journalists. The FNJ is confident that the Court's verdict will uphold Nepal's law, international standards of press freedom and principles of investigative journalism."
NPU General Secretary Ajaya Babu Shiwakoti said: "The NPU is seriously concerned by the filing of a case intended to discourage investigative reporting on corruption. NPU is always in solidarity with professional journalism; and urges all not to harass media and journalists for their professional works."
Khadka had previously issued a threat to journalist Paudel for his reporting on corruption issues on Nagarik daily.
The IFJ said: "The IFJ express serious concerns over the defamation case filed by the chief of a state-owned agency against a newspaper reporting about corruption. The strategic lawsuit against public participation (SLAPP) has been a tool to censor and silence media around the world and the IFJ urges Nepal to ensure a mechanism to discourage such false lawsuits aimed at critical voice and investigative journalism."
Photo: The front page of Nagarik when it ran one of the follow up reports of corruption at NOC. Credit: Nagarik
Written By

IFJ Asia-Pacific
The IFJ represents more than 600,000 journalists in 140 countries.
For further information contact IFJ Asia-Pacific on +61 2 9333 0946
Find the IFJ on Twitter: @ifjasiapacific
Find the IFJ on Facebook: www.facebook.com/IFJAsiaPacific
Comments