Attacks on Media
Disappearances of Journalists in Sri Lanka: Lessons Learned
19 Nov, 2015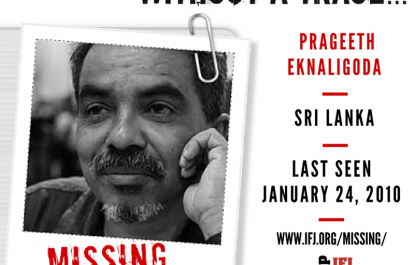 Sri Lanka has seen decades of abductions and disappearances by state security agencies. Campaigning against such repressive acts too has become part of our political culture.
Enforced and involuntary disappearance of persons has been a permanent feature in Sri Lankan political culture over the last three decades. The second highest number of unsolved disappearances reported to the United Nations Working Group on Enforced and Involuntary Disappearances are reported from Sri Lanka.
As the editor of a weekly Sinhala language newspaper during 1990 – 2000, I came to know and worked with many family members of the disappeared who were campaigning for justice.
Dr. Manorani Saravanmuttu was one of them.
Her son, well known journalist and broadcaster Richard de Silva (32), was abducted from home in front of his mother's eyes on 18th February 1990. The death squad wanted him to disappear and dumped his body in to the sea hoping that the current would wash away all traces.  But his body washed up on the shore within 48 hours, tortured and with bullet wounds. His mother Dr. Manorani Saravanamuttu calling for justice, took up the case of her son's abduction, and travelled the country and the world. Thus Richard became the symbol of the fight against abductions and disappearances in Sri Lanka.
In 1992 we, along with the newspaper I edited; Yukthiya (Justice), organised a mass campaign calling for justice for Richard which also facilitated the downfall of then repressive government.
Abduction is the first step of making persons  disappear. Dividing line between them id then.  During the last phase of war (2006-2009) we, the press freedom community of Sri Lanka, were able to save the lives of at least four journalists who were abducted by state security agencies.  On all four occasions the press freedom community led by Free Media Movement (FMM) was able to mount swift action, nationally and internationally within hours and thereby secure their lives.
For instance, when Nadaraja Guruparan, senior radio journalist, was abducted on 29th August 2006 early morning when he was on his way to work, within hours FMM mobilised hundreds of journalists and political activists and staged a protest while international press freedom movement issued alerts. He was released the very next day.
On the other hand FMM coordinated safety training and safety fund to support journalists in need, which complemented the agitations and advocacy.
Our experience shows that journalist unity, organisational capacity and networking with International partners are pre-requisites to stopping abductions of journalists.
In the post war era abducted and disappeared journalist and cartoonist Prageeth Eknaligoda  became a symbol against repression of press freedom and enforced disappearances in Sri Lanka.
I met Prageeth a few days before I left the country for an intervention at the United Nations Human Rights Council and we discussed ways to combat media censorship that prevailed at the time. He used to publish his cartoons in the newspaper I edited, Yukthiya. Now it has come to light that his abductors questioned him on a booklet he compiled to be used by the opposition presidential campaign in 2010.
Like Dr. Manorani in the early 1990s, Sandya Eknaligoda, the wife of Prageeth, has been in the forefront of the struggle against the disappearances in the country since her husband's disappearance. Prageeth was abducted on 24th January 2010.  She too has been a tireless campaigner for justice for her disappeared husband. The campaign she led, calling for justice for Prageeth, has resonated in the highest justice echelons in the world, including United Nations.
Sandya has been regularly visiting Geneva, where I live in exile, to campaign for her disappeared husband. Working with her over the years doing advocacy in Geneva and London, I have witnessed how quickly she became an experienced campaigner with convincing facts, figures and arguments.
When Prageeth was abducted there was no active movement for media freedom in the country. As a part of the war strategy, the press freedom movement had been trashed; almost all leading journalists in the movement had been forced to flee the country.
At least 3 more media workers/ journalists remain missing in Sri Lanka.
Journalist Subramaniam Ramachandran (37) was reportedly detained at a military check point on 15th February 2007. He remains disappeared since then. Appeals by his ageing parents to authorities have been to no avail. Vadivel Nimalarajah (31) of Jaffna was abducted on 17th November 2007. He was a proof reader for Uthayan daily and was on his way home when he was reportedly abducted. Anthonypillai Sherin Sithranjan (36), newspaper distributor of Yarl Thinakkural in Jaffna, went missing on 5th November 2007.
Jaffna was under military rule when all three disappearances took place and there was no space to protest or campaign for their release. Even after the war's end there hasn't been any visible campaign on their disappearances. An article here and a press conference there have not been able to generate an ongoing campaign.
On the contrary, supported by local and international press freedom and human rights groups, the campaign calling for truth and justice for Prageeth has continued. As a result, the investigation   into his abduction was re-launched under the new government and it seems to have achieved considerable progress. The case against abduction and murder of journalist Prageeth will be filed in the near future, according to informed sources.
Fighting against the abductions and disappearances [of journalists] needs unity and consistency among the media community. Swift action, including mobilisation, advocacy and alerts at home and abroad could provide relief in the short term and long term. Training and support too will be necessary.
In Sinhala we have a saying: 'tattu karananta dora hare'; the door only opens to the one who knocks. The lesson is to fight and not give up!
On November 16, the IFJ Asia Pacific launched Without A Trace: Missing Media Workers in the Asia Pacific, to list the cases of ten missing journalists in the Asia Pacific. The IFJ Asia Pacific also launched a petition calling for governments to sign and ratify the UN Convention for All Persons from Enforced Disappearances.  
Sunanda Deshapriya is a Sri Lanka journalist, who lived in exile during the Rajapaksa government. In 2015 he returned to Sri Lanka.
Written By
Comments