Press Statement
Editor attacked by pro-government mob in Bangladesh
25 Jul, 2018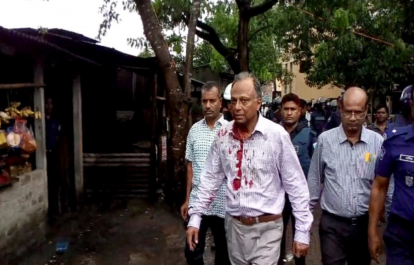 Mahmudur Rahman, the editor of opposition-aligned Amar Desh daily, was brutally attacked by a pro-government mob outside the court in Kushita, western Bangladesh on July 22.
The International Federation of Journalists (IFJ) and the Bangladesh Manobadhikar Sangbadik Forum (BMSF) strongly condemn the attack on the editor. The IFJ demands investigation into the violence to punish those involved in the attack and urge the Bangladesh government to ensure safety of journalists.
On July 22, 66-year-old Rahman was attacked by more than 100 people allegedly affiliated to Bangladesh Chhatra League, the youth wing of governing Awami League, on the court premises in Kushtia after he was granted bail in a defamation case filed for his remarks about the Prime Minister Sheikh Hasina. Several defamation cases have been filed against him for his remarks in a seminar in Dhaka in December 2017.
Although Rahman was granted bail around noon, he was confined in the courtroom due to presence of the mob outside the court; and when he finally came out, the mob attacked him and his car. He sought shelter in an advocate's room where he was beaten. He was rescued by the police. Rahman chose not to treat his injuries in Kushita for fear of his life and flew to Dhaka.
Rahman, who is known as an opposition intellectual who has served as the is editor of Amar Desh since 2008. The government has twice closed down the newspaper arresting Rahman. In 2010, he spent six months in jail over one report; and also jailed for three years after he was arrested in 2013 for sedition over published contents.
The IFJ said: "The IFJ condemns the brutal attack on Amar Desh editor Mahmudur Rahman; and expresses serious concerns over the security agency's inaction in providing security to him in the court premises. Without opposition voices and critical media, the democracy cannot function. The attack on editor Rahman is a serious violation of press freedom; and the Bangladesh government should investigate the incident and punish those involved immediately."
Written By

IFJ Asia-Pacific
The IFJ represents more than 600,000 journalists in 140 countries.
For further information contact IFJ Asia-Pacific on +61 2 9333 0946
Find the IFJ on Twitter: @ifjasiapacific
Find the IFJ on Facebook: www.facebook.com/IFJAsiaPacific
Comments