Impunity
Ekneligoda, Sugirtharajan and 24th January
30 Jan, 2018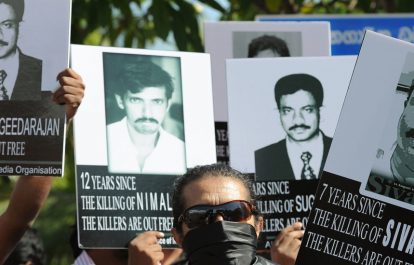 For several years, the Free Media Movement (FMM) of Sri Lanka and free expression advocates have dubbed January as "Black January". This was in the context of a large number of journalists killed, disappeared, assaulted, as well as attacks on media institutions – all in January.
24th is one such black day in January. The Trincomalee based Tamil journalist Subramaniyam Sugirtharajan was shot dead on 24th January 2006. The Colombo based Sinhalese cartoonist and journalist Prageeth Ekneligoda disappeared on 24th January 2010.
The almost forgotten journalist killing: Subramaniyam Sugirtharajan
Sugirtharajan, popularly known as SSR, was a part-time provincial journalist working for the Tamil language daily Sudar Oli. He was a father of two children. He had been staying a few kilometers from the office of the Eastern Province Governor.
A journalist and close friend of SSR, took me to the spot SSR was shot. It was approximately less than 100 meters from the Governor's office and about 200 meters from his own house. Another journalistic colleague and friend of SSR told me that before the killing, SSR had been feeling insecure and wanted to find a safer house in a different location. A house had been identified, but he was killed before he could actually move. Everyone I spoke to mentioned that the nearest reason for his killing would have been the photos he took of 5 youth murdered on the beach of Trincomalee on 2nd January 2006, popularly known now as the "Trinco 5 case".
Another friend of SSR, also known to me, told me that on the morning of 3rd January 2006, SSR had told him that he wanted to get photos of the five youth killed, whose bodies were at the mortuary. Our mutual friend had dropped SSR, armed with a camera, at the hospital. According to him, the military was not allowing anyone, even the families of the youth, access to the mortuary to see the bodies. But SSR had persisted. And finally, the photos he took were published on "Sudar Oli" newspaper on 4th January 2006. They had shown clear gunshot wounds, thus, disputing the version that the youth had not been shot dead. Reporters sans frontières (RSF) had noted that SSR had also detailed the abuses committed by Tamil paramilitary groups including the EPDP in the Trincomalee region, the day before his murder.
One journalist friend of SSR in Trincomalee spoke to me at length about his association with SSR and aftermath of his killings. He said he had spontaneously rushed to the spot of his killing when he heard the news, but later, was too scared to go to the hospital to see the body or even for the funeral. Two days later, he had got a letter, from group called "Force destroying the Enemy". The letter had accused him of canvassing for Vanni Tigers, that 3 such persons had been identified, verdict had been delivered and implemented on one person (Sugirtharajan) and that he should count his days, as he was going to be the 2nd.
Disappearance of a journalist: Prageeth Ekneligoda
Like SSR, Prageeth Ekneligoda had also attracted the wrath of persons he had critiqued and exposed through his writings and cartoons. Prageeth also is a father of two boys. Reports by the Criminal Investigation Department (CID) to the Courts indicate that Ekneligoda was abducted from Rajagiriya in the Colombo district by Army Intelligence personnel, and taken to Giritale Army Intelligence camp, where he had been questioned about a book related to family of then President Rajapakse.
According to CID investigation reports to courts, the abductors had moved from Akkaraipattu to Giritale from 25th until the 27th afternoon, without proper records of their movements and that of vehicles. Both the CID and State Counsel leading the case on behalf of the Attorney General's (AG) department, had repeatedly told courts of the Army providing false information, denying possession of evidence, delaying production of evidence and misleading investigations and courts. They had also reported a lack of cooperation and obstructions towards investigations from the Army, and intimidation towards witnesses. A key witness, who had seen and questioned Ekneligoda in the Giritale camp on 25th January 2015, has complained to the Police about a conspiracy to harm his life from the Giritale camp.
Hostile posters had appeared on public places against Ekneligoda's wife, Sandya Ekneligoda, the central figure in the campaign for truth and justice in Ekneligoda's disappearance. She has faithfully gone to courts more than hundred times, often alone, despite the hostility of suspects who were from Military Intelligence, that had been arrested and subsequently released on bail. The suspect's supporters had also been hostile to Sandya, and she was compelled to complain to the Police about intimidation from one of these, Galaboda Ethhe Gnanasara Thero, leader of the Bodu Bala Sena. A separate case is progressing in relation to this, after Sandya had insisted on justice through the judicial process instead of "settling" the matter through a mediation board.
Free expression in Sri Lanka today
I feel this write-up will not be complete without briefly looking at free expression in Sri Lanka today. I will try doing this through some incidents that made strong impressions on me in 2017. In and around Colombo, the house of a vocal campaigner against a prison massacre was shot at, a human rights lawyer got death threats from an unknown caller, another rights lawyer was threatened by the then Minister of Justice for speaking out against violence against religious minorities and a trade union leader was abducted amidst months long worker's protest.
In the former war ravaged North, a protesting wife of a disappeared man was assaulted, a memorial for war dead was stopped and organizers harassed and subjected to investigations, youth were questioned and threatened by Police for posting photos of a government office and journalists were summoned for questioning, stopped from engaging in investigative journalism and reporting issues such as disappearances and militarization etc. Websites have been blocked arbitrarily. There are many more I can add to the list. Clearly, although no journalist was killed or disappeared in Sri Lanka in 2017, it was still a bad year for free expression and fundamental freedom.
Prospects for justice for Ekneligoda, Sugitharajan and other victims
The courageous, determined and sustained campaign of 8 years by Sandya, significant national and international media attention and investigations by the CID appears to have brought out some truths about the disappearance of Ekneligoda in 2015-2016. But progress appears to have stalled, or even moved backwards last year, primarily due to lack of cooperation from the Army and key suspects being released on bail a few weeks after President publicly questioned their detention. Compared to Ekneligoda, there has been very little national and international interest about Sugirtharajan, murdered four years before Ekneligoda disappeared. Not surprisingly, there is no progress in investigations and no arrests.
It is twelve years since Sugirtharajan was killed. Eight years after Ekneligoda disappeared. And three years since a government that had a mandate of "good governance" came into power, promising accountability for past violations, such as against Sugirtharajan and Ekneligoda. But right now, for both of them, as well as numerous other freedom of expression violations, including in Black January, prospects for truth and justice through prosecutions and convictions appear bleak and a distant dream.
(This write-up is originally published in the Groundviews, Sri Lanka. Republished with permission. Photo courtesy: Sri Lanka Brief)
Written By
Comments