Press Statement
Ensure transparency in re-investigation of Wickrematunge case
04 Oct, 2016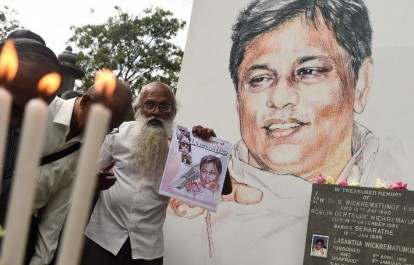 The International Federation of Journalists (IFJ) joins its affiliate the Free Media Movement Sri Lanka (FMM) in welcoming the reopening of the investigation of the murder of editor and journalist Lasantha Wickrematunge. The IFJ demands transparency in this investigation.
On September 27, the body of Sunday Leader editor Wickrematunge was exhumed for a post-mortem as two earlier post-mortem reports were conflicting, with one concluding he had died from gunshot injuries, while another said there was no evidence of bullet wounds. The police exhumed his body not allowing journalists or human rights activists to witness the exhumation.
On January 8, 2009, Wickrematunge, one of the most influential journalists at the time and a vocal critic of the authoritarian regime of President Mahinda Rajapaksa, was killed on his way to work in broad daylight by motorcycle-borne assassins. Despite widespread outrage both nationally and internationally, no one was arrested in spite of beliefs that Rajapaksa's close aides were involved in the murder. After years of journalist and activist groups demanding justice in the killing of Wickrematunge, the exhumation of his body marks a significant day in the pursuit for justice and end to impunity for his killers.
The re-opening of the investigation under the new government of Maithripala Sirisena gave rise to cautious optimism that those responsible for his murder would be brought to justice. In July, an army intelligence officer was detained in connection with the murder.
The FMM appreciated the initiation of the investigation, and said: "Such events are very sensitive and journalists have a responsibility to report ethically. However, the FMM condemns the act of the police in obstructing journalists' reporting of an important event without providing a proper reason."
The IFJ said: "An impartial re-investigation of all available evidence must serve the interests of justice in bringing the killers of Lasantha Wickrematunge to trial. The media must be allowed access to report on this significant case."
Written By

IFJ Asia-Pacific
The IFJ represents more than 600,000 journalists in 140 countries.
For further information contact IFJ Asia-Pacific on +61 2 9333 0946
Find the IFJ on Twitter: @ifjasiapacific
Find the IFJ on Facebook: www.facebook.com/IFJAsiaPacific
Comments