Press Statement
Fears for media freedom after State of Emergency declared in the Maldives
09 Nov, 2015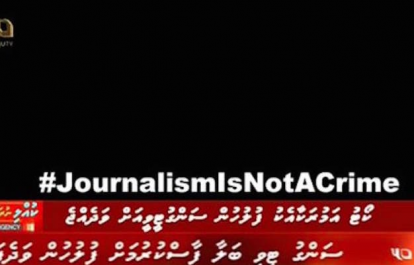 The International Federation of Journalists (IFJ) joins its affiliate the Maldives Journalists Association (MJA) in expressing serious concern over the state of press freedom following the declaration of a state of emergency in the Maldives on Wednesday, November 4. The IFJ and the MJA urge the Maldivian government to guarantee a free environment for media operations; and refrain from harassing media and journalists during the 30-day state of emergency.
On November 6, the Maldivian police raided Sangu TV, a private television station, in connection with a YouTube video allegedly threatening President Abdulla Yameen and removed every computer hard disc and the company's archive system, which ultimately forced the station to stop its broadcasting. The YouTube video showed three masked men issuing a death threat against the president; and police suspected the video was uploaded from the TV station, a claim that the Sangu TV denied.
In a separate incident on November 6, pro-opposition Raajje TV suspended coverage of political affairs stating that 'the threat to freedom of expression and freedom of the media has been immense' after the declaration of emergency. A journalist of Raajje TV was also briefly detained on November 6, with videos and photos of the arrest going viral on the Internet; however the police denied his detention.
'We have no choice but to suspend our normal coverage tonight… because we are no longer able to report without fear," said Hussain Fiyaz Moosa, the chief operating officer of Raajje TV, said. Moosa was detained for a day along with two other journalists on November 2. Rajje TV would only broadcast songs during prime time news slot to 'protect the staff'. On the evening of November 8, Rajje TV went back on air.
After the declaration of the state of emergency, the Maldives Broadcast Commission (MBC), a regulatory body instituted to defend and protect the rights of the broadcasters, said it would revoke the licenses of any radio or TV outlet that airs content which poses a threat to national security.
The IFJ said: "The IFJ is deeply concerned regarding the state of media freedom in the Maldives following the declaration of the state of emergency. The subsequent attacks on media houses and press freedom have raised grave concerns for the government's support for press freedom in the Maldives. The current situation facing the country's media is creating an environment impossible to exercise the constitutional guarantee of freedom of expression."
The IFJ added: "We urge the Maldivian government to immediately guarantee press freedom and freedom of expression across the country and ensure the country's media are free to report with fear of attack or retribution."
Photo: The Sangu TV screens after it was forced off air on November 6.
Written By

IFJ Asia-Pacific
The IFJ represents more than 600,000 journalists in 140 countries.
For further information contact IFJ Asia-Pacific on +61 2 9333 0946
Find the IFJ on Twitter: @ifjasiapacific
Find the IFJ on Facebook: www.facebook.com/IFJAsiaPacific
Comments