Pakistan
First-aid training saves lives
23 Dec, 2016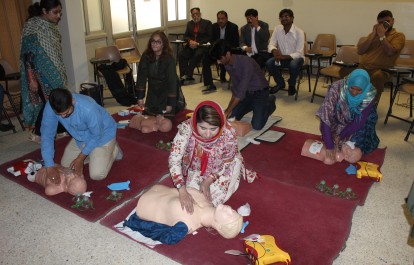 Several international media organizations give their employees basic first-aid training which helps save lives in the field. Pakistani media organizations focus on how to protect oneself in dangerous situations like firing, riots and terror attacks, which is great but that may not be enough. As Amir Ahmed, senior journalist and Director News, Aaj News said, "We have seen that many people die of injuries that would not have been life threatening if timely first aid had been given. These people could have been saved if someone had been trained to provide first aid."
Keeping in mind the importance of providing initial first-aid Karachi Union of Journalists (KUJ) recently organized a first-aid training in collaboration with the Research and Skills Development Centre (RSDC), Liaquat National Hospital (LNH) Karachi. KUJ General Secretary Wajid Isfahani took the initiative of working with RSDC Program Director Dr. Kahkashan Tahir and LNH Spokesperson Anjum Rizvi to design specialized basic first-aid training for media personnel, mainly reporters and camerapersons.
"First-aid training for media teams in the field should be a priority, especially for people working in dangerous areas," said Wajid Isfahani. Dr. Kahkashan Tahir helped to design a training module as per the requirement of journalists, the 'Basic emergency and trauma management training module'.
The training included components from CPR, First Aid and Trauma Management. "This was done on specialized training simulators present in state of the art and fully equipped training centre of LNH," said Isfahani.
Media personnel from different media organizations in Karachi attended the training and learned how to externally pump the heart and give artificial breathing to a victim whose heart and lungs have stopped; how to give shocks to such a victim by automated shock giving machine – AED.
The training also included how to relieve a victim of choked windpipe i.e. to remove the particle blocking air passage and recover breathing, and what precautions to take when administrating first aid to a victim. Injury management and how to control visible bleeding and what to do if there is internal bleeding was also taught. Managing common injuries like bullet and explosion injuries and different kinds of bandaging techniques were taught; how to lift and shift a victim and achieve spinal column immobilization of a trauma victim to save his spinal cord and to prevent him from lifelong paralysis was also demonstrated. And finally, how to safely remove the victim stuck inside a vehicle in a road traffic accident was also taught.
In view of the many heat related emergencies and death over the past two years, participants also got training in immediate actions that could save someone from a heat stroke and other related health emergencies.
Given the response to the training, KUJ has planned to conduct similar workshops – as well as more advanced first aid training – with RSDC in the future to reach a large number of media personnel.
"Apart from giving employees first aid training, we will also talk to media organizations to place properly equipped first-aid kits in DSNG vans." KUJ Gen Secretary Wajid said.
Written By
Comments