Press Statement
Floods in Kashmir kill photojournalist on duty
24 Sep, 2014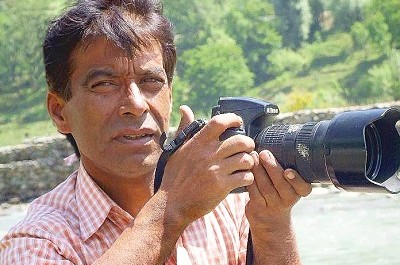 The International Federation of Journalists (IFJ) and its affiliates the All India Newspapers Employees Federation (AINEF) are saddened by the death of a respected Kashmiri photojournalist on duty covering the floods in India's Kashmir Valley and has called on India's media organisations to do more to protect workers sent into the field to cover disasters.
Photojournalist Shafat Sidiq, 40, was on assignment for Dainik Jagran, a Hindi daily when he went missing in the floods on September 7. His body, with his cameras still hanging around his neck, was found five days later.
He is survived by wife Yasmeen, 18-month-old son Mohammad, ailing father Mohammad Sidiq, mother Saleema and two sisters. His family was dependent on his earnings to survive. He published photos on the Dainik Jagran for many years but is said to be working for it only as a "stringer" where freelancers are only paid when work is published.
According to reports, Sidiq was sent out to take photographs after receiving a call from the newspaper and never returned. He was covering the floods-ravaged situation near the Civil Secretariat in Srinagar and is believed to have slipped from a flyover into the heavy flow of water gushing from the nearby Jhelum River.
During his 20-year career in journalism, Sidiq also worked with the Srinagar daily Aftab, the Jammu-based Kashmir Times and the daily Amar Ujala. Sidiq was also working for the Philippines-based Pacific News Agency based, with many of his images picked up by global photographic agency Getty Images.
Purnachandra Rao, the vice-president of AINEF, said: "He was deputed by the management of Dainik Jagran to shoot the flood. The government should respond immediately and order an inquiry on his death."
The AINEF has also demanded for the compensation to his family.
The IFJ and the AINEF express condolences to Sidiq's family and have demanded better protections both in safety and employment for stringers who are at the mercy of employers without a guarantee of income.
The IFJ also urges the Dainik Jagran to support the family in every way possible.
The IFJ Asia Pacific deputy director, Jane Worthington, said: "The IFJ is deeply saddened by the death of a senior photojournalist who by our reports seem to have been pressured to go out and shoot in risky conditions. His long-term association with a media outlet, without a contract, also highlights the lack of job security of journalists in troubled areas face and the absolute cost when those situations turn bad."
The IFJ added: "We urge the Indian government, the media houses and others to come forward in supporting his family. Without hope of a future income, this is critical support."
Written By

IFJ Asia-Pacific
The IFJ represents more than 600,000 journalists in 140 countries.
For further information contact IFJ Asia-Pacific on +61 2 9333 0946
Find the IFJ on Twitter: @ifjasiapacific
Find the IFJ on Facebook: www.facebook.com/IFJAsiaPacific
Comments