Press Statement
Foreign journalists' visas rejected ahead of Maldives' elections
17 Sep, 2018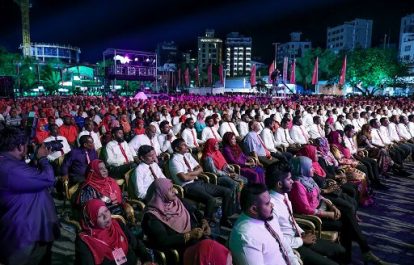 Ahead of presidential elections in the Maldives on September 23, allegations have emerged of foreign journalists been denied visas to cover the elections. The International Federation of Journalists (IFJ) has strongly criticised the Maldives' Government over their handling of visas for foreign journalists, and urged the government to ensure journalists, local and foreign, can freely cover the elections later this month.
On September 12, the joint opposition issued a statement expressing concerns over reports that several international journalists had had their applications for visas to cover the presidential elections rejected. The joint opposition is an alliance of the Maldivian Democratic Party, the Jumhooree Party, the Adhaalath Party, and a breakaway faction of ruling Progressive Party of Maldives.
On September 13, the Elections Commission refuted the allegation, saying that of the 37 applications received before the August 14 deadline, 11 were rejected due to insufficient documentation.
Strict requirements were set for foreign journalists wanting to cover the presidential elections including, submitting the application prior to August 14 to receive a permit from the election commission. They then had to apply to the immigration department for a business visa, which includes having a Maldivian sponsor, completing a 'vetting form' which includes details of employment, travel history and qualifications, as well as a police certificate.
In August 2018, the Immigration Department issued a press release stating that the elections were open to monitor by foreign media but warning foreign journalists that they would be subjected to "punitive measures" should they report on the elections without the appropriate visa.
In February 2018, the Maldives arrested and deported two AFP journalists – India's Money Sharma and UK's Atish Ravji Patel for reporting on the state of emergency on tourist visa.
The joint opposition said: "The visa measures are a deliberate attempt to restrict foreign journalists from traveling to the Maldives for the election, thus reducing independent scrutiny of the vote and President Yameen's likely attempts to steal it."
The IFJ said: "Journalists, both local and foreign, should be guaranteed free access to cover the upcoming elections. The reports of journalist visas been rejected is a worrying sign for the media, which adds to the growing concerns over reports of increasing harassment against journalists in the lead up to the elections. The IFJ demands free and secure environment for local and foreign journalists covering the election."
Picture: Supporters of Maldives President Abdulla Yameen attend his campaign rally in the Maldives capital Male, ahead of presidential elections on September 23. CREDIT: AHMED SHURAU / AFP
Written By

IFJ Asia-Pacific
The IFJ represents more than 600,000 journalists in 140 countries.
For further information contact IFJ Asia-Pacific on +61 2 9333 0946
Find the IFJ on Twitter: @ifjasiapacific
Find the IFJ on Facebook: www.facebook.com/IFJAsiaPacific
Comments