Attacks on Media
Forgetting the basics
17 Feb, 2016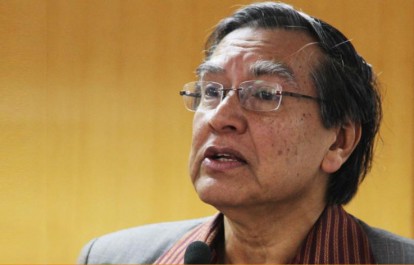 "Be the best wherever you go," this six-word sentence from him, I'm sure, will remain in my memories even if I forcefully bump my head on an oak tree!
I spent little over a couple of years working under Mahfuz Anam, the tall and bold editor of The Daily Star, who apparently has a hardcore ethical stance as firm as Mount Everest.
Despite the fact that man is mortal and everyone might have committed mistake, both intentionally and the other way round, I admire his qualities as a true leader and for the professional skills he owns and which he spreads among his colleagues with the magic wand of his speech.
Recently, a nine-year-old topic was brought back to discussion, stories of a 'shaky period' of Bangladesh when an army-backed caretaker government's created task force intelligence agency 'fed' some 'information' to most of the national newspapers, including The Daily Star, and they published it without 'independently verifying' them which led to the imprisonments of the country's two most influential leaders including the incumbent Prime Minister Sheikh Hasina.
Lately, Anam, on a live TV show, admitted his mistake done nine years ago saying 'it was a big mistake of my editorial career'.
Yes, as I said earlier, man makes mistakes. That was a mistake with such an enormous toll, perhaps true. He should have been asked to admit it long ago. Unfortunately, he wasn't asked straightaway.
Nine years later, when The Daily Star is virtually going through a ton of 'embargo' and 'sharp surveillance', the topic gained importance on the intellectuals' coffee table!
The 65-year-old editor admitted his mistake. Yes, one may say, what took him so long? I won't say, like most people are saying — 'not any other editors showed the guts to spill it too! At least he admitted his mistake!'
Rather I'd say, he, being honest, spilled out his repentance the very first time he got the chance. When everyone tried to avoid poking the old wounds,Anam literally took an arrow in the knee!
What shocked me most, the acts of pro-government organisation leaders. PM Hasina was the sufferer of the alleged reports. While she didn't say a word, why her party men became so vehement to accuse Anam?
Half a dozen of Members of Parliament accused him during a parliamentary session. Son of the PM also said he wants him (Anam) 'behind bars and on trial for treason'.
Since then more than three dozens of defamatory cases worth more than of $6.3 billion (as far as I know) were filed against him at different corners of the south Asian country. Sedition charges are flowing in so frequently; he's being summoned too in different districts where suits were lodged. It seems like a colossal festival is on here – The carnival of lawsuits!
I'm not the one to judge anyone here, however, as a professional journalist, my inherent curiosity questions myself – 'What should be the real reflection in such cases in a country that follows 'true democracy'?' or, 'How can we say what is the best way for trying to prove sedition charges against one of the most influential newspapers' editor?'
I have so many other questions in my mind. But, I feel I'd rather remain muzzled and I don't want to undergo through all those guillotines of tests, because, unlike Anam, I don't have a nerve of steel to deal with it.
But I surely have mixed up the definition of 'Freedom of the Press' that I've learned in Journalism School and what my primary school taught me – 'a gentleman's gesture'!
I really wanted to be the best of the best to keep the request of my ex-editor, but I feel intimidated to step ahead freely! I'm sorry Mr. Anam! I truly am!
The author is a Bangladeshi journalist.
Written By
Comments