Press Statement
Freedom of expression report, Breaking the Walls launches
31 May, 2016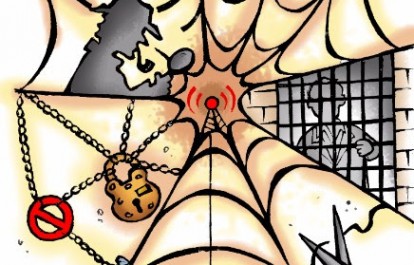 The International Federation of Journalists (IFJ) and the South Asia Media Solidarity Network (SAMSN) today launches the Breaking the Walls: The Fight for Freedom of Expression in the Digital Space in South Asia to conclude the Safer, Smarter Journalism campaign, which works to raise awareness on digital security for journalists.
The IFJ said: "The digital space in South Asia is at a pivotal point. As the internet becomes near universal through mobile technology, journalists and freedom of expression activists face new opportunities and challenges to tell their stories."
The report is an assessment of the state freedom of expression in South Asia on digital platforms. It analyses the development and potential of the social internet in South Asia while outlining the trend of internet shutdowns, censorships and surveillance attempts. The report also examines the dangers that the development and spread of internet and social media has created for journalists and the criminalization of expression online.
The Safer, Smarter Journalism campaign ran in all eight South Asian nations from May 23 to 31 with support from UNDEF's South Asia Media for Democracy project. During the campaign, the IFJ and SAMSN also launched the Digital Campaigning for Media Action: A Campaign Guide for Journalists on May 23 and the findings of the Safer, Smarter Journalism survey on Digital Security in South Asia's Media on May 25.
The Safer, Smarter Journalism survey drew on the findings from 176 responses across South Asia to illustrate the areas of urgent need to strengthen the digital security of the regions journalists. While almost all journalists use social media and email, one in five do not use secure passwords and nearly one-third don't lock their phones. Encryption is another security tool that is underused in South Asia, with one-third of journalists never encrypting emails. Most concerning is that one-third of South Asia's journalists say that digital security violations are the threat to their digital security.
The IFJ said: "Freedom of expression on the internet is a critical issue, especially in South Asia, where the authorities are attempting to restrict the rights through various laws, regulations and practices. The journalist unions need to properly integrate freedom of expression in the digital space in its human rights work. They also need to reach out and work with digital activists to ensure the internet in South Asia can deliver on its promise of open communication that informs the diverse communities of the region."
Image Credit: Aseem Trivedi
Written By

IFJ Asia-Pacific
The IFJ represents more than 600,000 journalists in 140 countries.
For further information contact IFJ Asia-Pacific on +61 2 9333 0946
Find the IFJ on Twitter: @ifjasiapacific
Find the IFJ on Facebook: www.facebook.com/IFJAsiaPacific
Comments