Press Statement
Freelance journalist killed in Afghanistan
22 Sep, 2015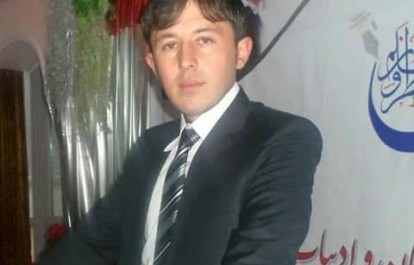 The International Federation of Journalists (IFJ) joins its affiliate the Afghanistan Independent Journalists Association (AIJA) in condemning the murder of a young freelance journalist in Faizabad, the capital of Badakhshan province in Northern Afghanistan. The IFJ call on the Afghan government to investigate the murder and bring those responsible to justice.
According to reports, Yama Behroz was killed when an Improvised Explosive Device (IED) exploded at his doorstep on September 18. Yama, a recent journalism graduate, was working as a freelance journalist with a local media organisation. Some of the reports suggested that the IED was planted at his door, and he was then called and asked to come out of the house.
The police said the motive behind the attack remained unknown and an investigation was launched. No group has so far claimed responsibility behind the incident.
AIJA President Rahimullah Samandar said: "We are shocked hearing the news. The AIJA condemns the murder and urge the local officials to follow this case with all possible efforts and arrest the people who are involved in this killing."
The AIJA has called upon president and CEO of Afghanistan to take this case seriously. This is first time that such sad incident happened in Badakhshan province, bordering China.
The IFJ said: "The IFJ condemns the murder of a young freelance journalist in Afghanistan and urge the Afghanistan government and authorities to act swiftly to arrest those behind the murder and punish them as soon as possible."
The IFJ added: "The safety situation in Afghanistan has seen some improvement in recent times but without proper government plans and actions for security of journalists, it would take no time to deteriorate."
This year, the IFJ has recorded two journalist murders. In 2014, the IFJ recorded nine journalist murders in Afghanistan, including the murder of Palwasha Tokhi Miranzai, who was brutally murdered at home after returning to Afghanistan upon finishing her journalism studies in Thailand. The Afghan Journalists Safety Committee recorded at least 39 cases of threat and violence against journalists in the first half of 2015, which is fewer than the same period last year.
Photo Credit: Afghan Journalist Safety Committee
Written By

IFJ Asia-Pacific
The IFJ represents more than 600,000 journalists in 140 countries.
For further information contact IFJ Asia-Pacific on +61 2 9333 0946
Find the IFJ on Twitter: @ifjasiapacific
Find the IFJ on Facebook: www.facebook.com/IFJAsiaPacific
Comments