Press Statement
Gunmen storm TV station in Kabul, killing security guard
08 Nov, 2017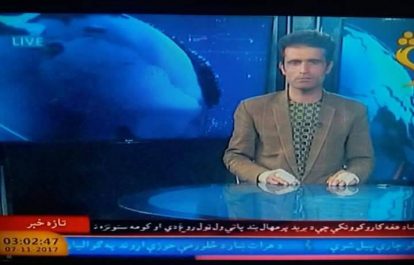 The International Federation of Journalists (IFJ) joins its affiliate the Afghan Independent Journalists Association (AIJA) in strongly condemning the attack on Shamshad TV in Kabul, on November 7. The IFJ urges the Afghan government to take concrete action to ensure security of journalists and media houses.
Two armed men with guns, explosive materials, and suicide jackets stormed into Shamshad Television in Kabul at 10:30 am Tuesday, killing a front gate guard and injuring 22 media workers and journalists. The condition of 6 injured is serious.
Shamshad TV's security guards engaged the attackers at the main building entrance and opened backdoor as safe exit for majority of employees. Afghan Special Forces helped the television guards killed both attackers to end the attack in less than three hours. The channel's live broadcasting resumed two hours later with presenters with injured hand describing the attack. The Islamic State of Iraq and the Levant (ISIL, also known as ISIS) has reportedly claimed responsibility for the attack.
Rahimullah Samandar, president of AIJA, said: "Media workers are civilians without arms; and attacking them like a military target is a war crime. Shamshad TV security guards, and employees acted bravely during the attack showing that Afghan media and journalists can defend press freedom with all they have, even with their lives. Terrorist attacks can't stop media activities and fight for press freedom and freedom of expression."
AIJA leadership urged the government to take strong measures to ensure safety for houses and journalists. Media houses must also beef up their internal security mechanisms and install new security systems where required.
Afghanistan's President Ashraf Ghani condemned the attack, calling it inhumane and an attack on the freedom of press. He pledged that the government would do whatever it could to ensure the protection and security of journalists. Afghanistan Journalists Center (AFJC) also strongly condemned the attack calling it an attack on entire media and freedom of expression.
The IFJ general secretary Anthony Bellanger said: "The IFJ strongly condemns the targeted attack on Shamshad TV in Kabul, Afghanistan; and stands in solidarity with Afghan media colleagues doing their brave work of protecting press freedom and informing the public. The IFJ is seriously concerned by the targeting of media by terrorist groups and urges the Afghan government to take urgent concrete action to ensure the security of journalists and media houses."
The IFJ is currently running its 21 day #EndImpunity campaign, including a focus on Afghanistan. Since 1994, 73 journalists and media workers have been killed in Afghanistan, with only four prosecutions. See more here and here.
Photo: Shamshad TV presenter live on TV with injuries shortly after the attack. Credit: AIJA
Written By

IFJ Asia-Pacific
The IFJ represents more than 600,000 journalists in 140 countries.
For further information contact IFJ Asia-Pacific on +61 2 9333 0946
Find the IFJ on Twitter: @ifjasiapacific
Find the IFJ on Facebook: www.facebook.com/IFJAsiaPacific
Comments