Press Statement
Harassment and arrest of Pakistani journalists strongly criticised
06 May, 2016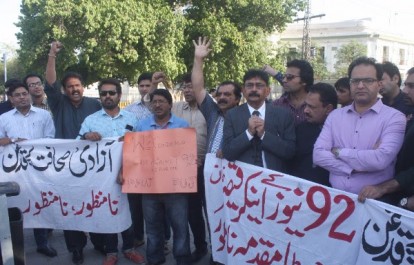 The International Federation of Journalists (IFJ) joins its affiliate the Pakistan Federal Union of Journalists (PFUJ) in condemning the arrest of journalists in Pakistan by local police. The IFJ demands immediate withdrawal of all the false cases against journalists and assurance of the safe and secure working situation.
On April 29, Iqrarul Hasan, the host of popular program Sar e-Aam on ARY TV and his colleague, Kamran Farooqui were arrested on orders of the Sindh Home Minister, Sohail Anwar Siyal, after they entered the Sindh Assembly with a pistol and presented it to the speaker, highlighting poor security. Hassan was released after 24 hours in custody, but Farooqui was held in judicial custody until May 4 when he was released on bail. The charges against the two journalists include the possession of illegal arms and fraud.
In a separate incident in Lahore, police registered a case against 92 News TV's Qaisar Khan, after he aired a program to expose the non-action of police in Okara. Khan's team raised the non-action of police in Okara's sub-urban area where the locals have complained of dacoits in his program 'Andheri Nagri'. Following his arrest, PFUJ staged a protest outside the Punjab Assembly in support of Khan.
According to the president of the Depalpur Press Club eight journalists were arrested during the protests on May 4 and 5.
PFUJ Lahore-based leader Rana Muhammad Azeem said: "It was not first time that police have registered cases against journalists. It has become a routine to harass journalists who exposes wrongdoings of the police and government. The PFUJ demands immediate withdrawal of the cases against journalists."
The IFJ said: "Journalists should never be arrested for simply doing their job. The pattern of arresting and charging journalists who expose weaknesses and wrong doings is a worrying development for Pakistan's media. The IFJ joins PFUJ is demanding the immediate withdrawal of each of the cases and call for end the harassment of journalists in Pakistan."
Photo: PFUJ journalists protest the arrest of Qaiar Khan in Lahore. Credit: PFUJ
Written By

IFJ Asia-Pacific
The IFJ represents more than 600,000 journalists in 140 countries.
For further information contact IFJ Asia-Pacific on +61 2 9333 0946
Find the IFJ on Twitter: @ifjasiapacific
Find the IFJ on Facebook: www.facebook.com/IFJAsiaPacific
Comments