Pakistan
IFJ Blog: Unsafe health reporting amid Covid-19
19 May, 2020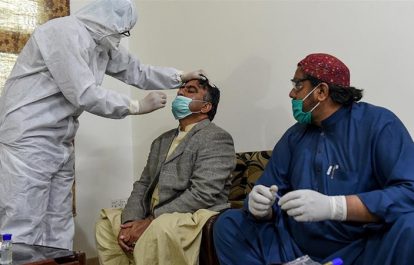 The situation confronting health journalists in Pakistan has made them fearful amid concerns of inadequate protections writes Lubna Jerar Naqvi.
Reporting has become a dangerous task during the Covid-19 pandemic in Pakistan with at least 50 journalists infected and one death.
The situation reveals how vulnerable the media is in a country where the government remains confused whether to soften the lockdown or maintain tough controls. The positive cases and death reveals how media workers, particularly those in the field, remain vulnerable to protect themselves from the deadly virus.
The few reporters who cover health-related stories in Pakistan struggle to get them into headlines or bulletins. And when these stories are published, it is only because of a crisis like the coronavirus pandemic.
Talking to health reporters for this blog – Akhtar Shaheen Rind, Khawar Khan and Imran Ayub – it is apparent they share similar concerns and their greatest fear is exposure and contracting the deadly virus.
Akhtar Shaheen Rind, a senior health reporter, founder & editor of Consumer News (a MOJO/Citizen journalism start up), and Khawar Khan, a health reporter for Geo News, are given several beats at a time, making it difficult to cover detailed health stories or investigations.
Rind remembers when there used to be separate reporters for different health beats. However, with increasing pressures on the media and mass layoffs, things have changed.
Rind adds: "Even before the media crisis began, media organizations began overburdening reporters. There is definitely a shortage of health reporters now."
Imran Ayub's view is that health reporters and any journalist trying to cover the pandemic and its impacts are facing a lot of problems. "The indiscipline and mismanagement in the governance issues already affect daily business of life in the country. So the global challenge like the coronavirus pandemic makes things further complicated."
The lack of coordination among the government institutions, typical government attitudes to hiding the facts and covering flaws, and a multitude of platforms where information is shared makes reporting even more challenging.
Ayub said, "Protection is a word which sounds amazingly strange when it comes to reporting in Pakistan. This country has suffered more than a decade of terrorism after 9/11 and those journalists who covered that bloodshed had never experienced anything like 'protection'. Many were killed and several others were left injured and paralyzed for life."
"So in the reporting of those deadly events where the threat was visible and one could gauge the possibility of damage he or she would suffer, the journalists were never cared for by their media houses and the state. How can we expect this privilege in this situation where the threat is not visible and media houses crying for financial losses?" he added.
Khawar Khan says more health specialists are desperately needed in the field but their importance only becomes evident to editors during a crisis or pandemic.
"Crises create opportunity; now most TV channels and newspapers are considering health as a 'proper' beat."
Imran Ayub, a reporter at Dawn Media Group, said there was a critical need for strong coverage of this kind in Pakistan.
"But above that we need to add value to health reporting. Increasing the number of reporters would not help alone. Before the pandemic, health was not a proper area of reporting in Pakistan and the most "useless" or "unskilled" person was assigned this beat. We need to realize that it's a specialized reporting."
Up to now health stories only made the headline when connected with a death, or a serious crisis, said Rind. Now reporters are now faced with an even bigger challenge, of reporting in the field without equipment to protect them.
Khawar emphasizes the absence of protective gear, saying "about 20% to 30% of organizations are providing only surgical mask to their staff".
Rind said TV channels are generally giving their reporters protective gear like gloves, masks. But since the majority don't have the required gear, many of them don't go into infected wards. Those who have to cover hospital wards on the insistence of bosses are forced to request the health authorities or hospital administration provide them with personal protective equipment (PPE).
The problem, according to Kanwar, is many "organizations and even editors don't understand the situation so far and ask their reporter to do live coverage from corona isolation centres".
Ayub speaks about other challenges like getting stuck on verifying facts instead of taking time to focus on investigative reporting.
"Others issues are created by reporters themselves," said Ayub, like lack of knowdge and expertise and the influence of speculation and conspiracy theories.
"Amid growing challenges of the future, there should be a proper desk of science in every major media house which covers technology, health, environment and climate with people of relevant qualifications."
Meanwhile, there is a clear and apparent need for the government of Pakistan to make it mandatory for media houses to provide proper protective equipment, not only to the teams covering the coronavirus pandemic but also those working in the office with them and ensure a sterilized and safe working environment for the media.
Written By
Comments