Press Statement
IFJ, SAMSN call for end to internet shutdowns
16 Jun, 2017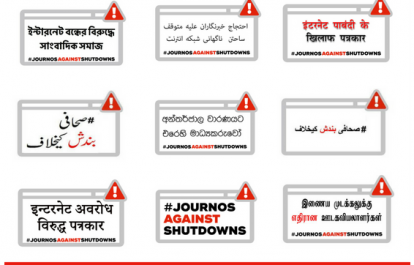 The International Federation of Journalists (IFJ) and the South Asia Media Solidarity Network (SAMSN) express serious concern over the growing trend of internet shutdowns in South Asia and call on governments to stop internet shutdowns. Internet shutdowns is an act against citizen's freedom of expression and right to information; it greatly affects press freedom by restricting independent media's capacity to report and disseminate news.
At the successful conclusion of the #JournosAgainstShutdowns: Campaign Against Internet Shutdowns in South Asia from May 29 to June 16, the IFJ and SAMSN call for greater vigilance in monitoring and documenting internet shutdowns by journalists, media and unions. The campaign was a first step in raising awareness about the impact of internet shutdowns as a freedom of expression and press freedom issue. A guide to monitoring shutdowns was released as part of the campaign.
The IFJ and the SAMSN note that any internet disruption violates the human right to freedom of opinion and expression as explicitly expressed in Article 19 of Universal Declaration of Human Rights (UDHR) and the International Covenant of Civil and Political Rights (ICCPR), which Afghanistan, Bangladesh, India, Pakistan, Nepal and Sri Lanka have ratified. It is also noted that the 2016 Human Rights Council resolution (A/HRC/RES/32/13) condemns measures to intentionally prevent or disrupt access to or dissemination of information online.
In 2016, South Asia recorded the highest number of internet shutdowns globally with India, Pakistan and Bangladesh having implemented shutdowns. India alone witnessed 50 shutdowns since 2016 – with 19 of them being in the first six months of 2017 and five of them during the three-week campaign period. Pakistan and Bangladesh also frequently disrupt internet access. Such shutdowns are ordered without clear legal mandate or are based on outdated laws.
The IFJ said: "Internet disruptions have a devastating effect on journalism as journalists and media are hampered in many ways, most critically in their role in supporting and promoting democracy and freedom of expression. There is an urgent need for journalists, their unions and media rights organizations in the region to join the growing advocacy against internet shutdowns in order to defend the rights of journalists and freedom of expression in South Asia."
The IFJ and the SAMSN, along with 10 other journalist unions or organizations, joined the #KeepItOn – a global coalition of more than 80 organizations for advocacy against internet shutdowns. They also extended support to works of regional and national organizations in monitoring, documenting and protesting internet shutdowns.
The IFJ and the SAMSN also called upon the state authorities to refrain from any action or order disrupting internet; and journalist unions, rights organizations, civil society, and private companies to remain vigilant about any occurrence or internet shutdowns. Journalists and leaders of unions and media rights organizations of South Asia have called for an end in the internet shutdowns expressing support for the campaign.
S.K. Pande, President, Delhi Union of Journalists, said: "Indian authorities are getting into the habit of shutting down the internet whenever there is any local agitation, small or big. This hampers the work of journalists and is often counterproductive as it allows rumours to spread unchecked. We believe in the free, unfettered flow of information."
Anita Bindu, the vice-president of Federation of Nepali Journalists said: "Internet shutdowns are attacks on freedom of expression and press freedom and are not desirable in democracies."
C Dodawatta, convener of the Free Media Movement, Sri Lanka, said: "In this era in which the horizons of expression have been broadened, restrictions of freedom of expression in the Asian region and cutting down the rights should be denounced."
K Kamal, the general secretary of the Bangladesh Manobadhikar Sangbadik Forum, said: "Intenret shutdowns violates freedom of expression and hampers journalists from communicating important stories. We say no to internet shutdowns in South Asia."
Ahmed Zahir 'Hiriga', the former president of the Maldives Journalists Association, said: "Internet shutdown is an attack on media's daily work routine so journalists must raise their voice and stand against the disruption of internet."
The IFJ and the SAMSN recommend that:
Governments must publicly commit themselves to online freedom.. In cases when an internet shutdown is unavoidable, the government should follow legally mandated processes through appropriate authorities and also ensure that the shutdowns are for the shortest possible period.
Governments must ensure transparency in the functioning of the telecommunication and internet regulatory authority.
Governments must engage media and journalist unions as stakeholders in discussions and decisions having direct implication on freedom of expression on the internet.
Journalists, media and journalist unions must monitor and document instances of internet shutdowns; develop alliances with organizations advocating against internet shutdowns; and make free internet an issue of priority.
Service providers must ensure transparency to inform public when internet shutdowns are carried out and record all instances of shutdowns with related documentation.
More information about the #JournosAgainstShutdowns campaign can be found here.
Written By

IFJ Asia-Pacific
The IFJ represents more than 600,000 journalists in 140 countries.
For further information contact IFJ Asia-Pacific on +61 2 9333 0946
Find the IFJ on Twitter: @ifjasiapacific
Find the IFJ on Facebook: www.facebook.com/IFJAsiaPacific
Comments