Press Statement
IJU concern over Prasar Bharati Threat to PTI
28 Jun, 2020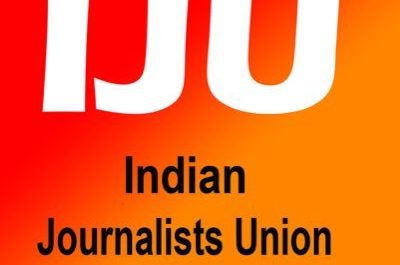 The Indian Journalists Union expresses profound concern over government's latest attempt to rein in the media, this time the biggest news agency PTI through the so-called 'autonomous' public service broadcaster Prasar Bharati. It is learnt that the Prasar Bharti has written to PTI saying that its conduct has made it "no longer tenable' to patronise the news agency, after it quoted the Chinese Ambassador to China on the ongoing India-China stand-off.
The Prasar Bharati has reportedly accused the PTI of its coverage 'disseminated widely to its domestic subscribers and prominently shared with foreign entities', of being "detrimental to national interest while undermining India's territorial integrity". To justify its proposed action of reviewing its subscription, which amounts to a "huge fees", the Prasar Bharati now recalls  that it has often alerted the PTI on 'editorial lapses resulting in dissemination of wrong news harming public interest.'
In a statement, the IJU President Geetartha Pathak and Secretary General Sabina Inderjit said that though Prasar Bharati was set up as an autonomous body, it is no secret that it functions as the Government's mouth piece and its action against the PTI smacks of the known growing intolerance there is towards ethical and independent journalism.
An embedded media has no place in a democracy, even in the times of conflict, as going on between India and China, believes the IJU. Prasar Bharati needs to remember that citizens' right to information and the journalists' right to report facts are non-negotiable and that its attempt to threaten the PTI will be seen as yet another attempt by the government to treat country's media as a hand maid. Prasar Bharati must review its decision, demanded the IJU.
Download
Written By

Indian Journalists' Union
F-29, Shankar Market Connaught Circus, New Delhi 110001 Telephone +91 9810889396
Comments