Press Statement
IJU Condemns AP Journalist Killing
17 Oct, 2019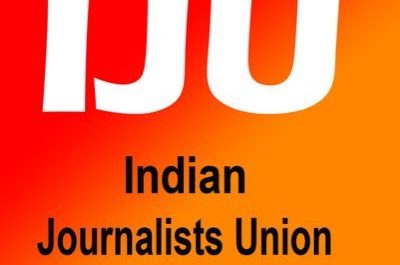 New Delhi, October 17, 2019: The Indian Journalists Union (IJU) expressed grave concern over the brutal murder of K Satyanarayana, Correspondent of Telugu daily, Andhra Jyothi at Thondangi Mandal in East Godavari district on Tuesday night, after he was returning home from work. Satyanarayana is reported to have been writing against ant-social elements and was earlier attacked a month ago.
In a statement IJU Interim President Geetartha Pathak and Secretary General and IFJ Vice President Sabina Inderjit demanded that the Andhra Pradesh government bring the culprits to book immediately and urged that it give compensation to the family of the slain journalist. At the same time, the IJU expressed serious concern at the rising attacks on journalists in the State as well as the country and reiterated its demand for a Safety law for journalists to ensure protection and safeguarding freedom of press.
The IJU welcomes the Press Council of India taking suo moto notice of the cognisance of the attack and directing the Government of Andhra Pradesh, particularly the Chief Secretary and Director General of Police to submit a report at the earliest. The action follows the request of leaders of its State union, Andhra Pradesh Union of Working Journalists, along with Press Council member MA Majid and former members Sreenivas Reddy and Amarnath Kosuri to PCI chairman.
The IJU, the largest and most representative organisation of working journalists in the country,  said all governments must view the attacks on journalists as an attack on the freedom of the press and provide adequate protection to the fourth estate to carry out its duties without fear.
Written By

Indian Journalists' Union
F-29, Shankar Market Connaught Circus, New Delhi 110001 Telephone +91 9810889396
Comments