Press Statement
IJU strongly condemn the arrest of Rajib Sharma
16 Jul, 2020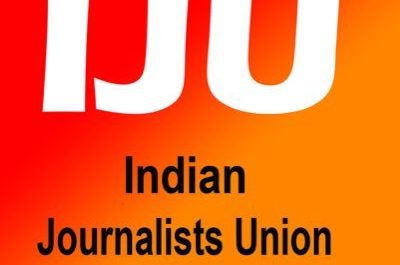 Indian Journalists Union ( IJU) strongly condemn the arrest of DY365 TV channel correspondent  from Dhubri, Assam, Rajib Sharma at midnight by Dhubri police resulting in the shocking death of the journalist's father.
IJU President and former member of Press Council of India Geetartha Pathak and IJU Secretary General and International Federation of Journalists (IFJ)'s Vice President Sabina Inderjit said in a statement that arresting a journalist at midnight like a dreaded terrorist for the journalist's reporting is sheer attack on press freedom and freedom of expression.
Rajib Sharma, a correspondent of DY365 Assamese TV Channel from Dhuburi, Assam was picked up from his house at 2 am on Thursday July 16 by Dhuburi police on the basis of an FIR filed by the Dhuburi Divisional Forest Officer (DFO) Biswajit Roy.  The journalist's father was shocked at his son's arrest and died in the same night after a massive heart stroke. The journalist currently on bail which was granted to him for performing his father's funeral.
The DFO in the FIR alleged that Sharma on July 8 demanded money from him and threatened that his TV channel will expose many irregularities done by the DFO.
The DY365 TV channel recently has exposed some serious scandals relating to timber smuggling and illegal saw mill licensing in the district. The death of the journalist's father cast a pall gloom mixed with anger in the area  The local journalists  alleged that the journalist was falsely implicated for his reportage exposing the illegal timber business and consequent deforestation of the district where the forest and local police were involved.
The IJU leaders demand the state government to investigate the timber scandal in the district instead of implicating journalists for their investigative public interest reports. IJU also demands compensation for the death of the reporter's father.
Written By

Indian Journalists' Union
F-29, Shankar Market Connaught Circus, New Delhi 110001 Telephone +91 9810889396
Comments