Press Statement
Impunity breakthrough in Pakistan as convicted killer captured in Karachi
17 Mar, 2015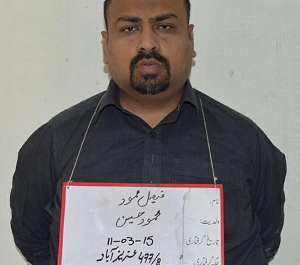 The International Federation of Journalists (IFJ) and the Pakistan Federal Union of Journalists (PFUJ) welcome the arrest of a murderer convicted for the killing of Karachi journalist Wali Kahn Babar. The IFJ has described the arrest of Faisal Mehmood on March 11 as a significant breakthrough in Pakistan's fight against impunity for journalist killings.

Babar was shot dead on January 13, 2011, in the Liaquatabad area of Karachi on his way to home from work. He was murdered after his story on gang violence aired on Geo TV. During the murder trial, nine witnesses were murdered including policemen and prosecutors and the trial had to be moved several times due to ongoing security threats.
On March 1, 2014, Faisal Mehmood (also known as Faisal Mota) and Kamran (alias Zeeshan) were convicted in absentia and given a death sentence by Pakistan's Anti-Terrorism Court in Kandhkot for the murder of the respected Geo News reporter. The verdict marked only the second time in Pakistan history that the murderers of a journalist were brought to justice and was the result of a massive cooperation between the justice system, police, civil society, media and the government. Also convicted and sentenced were Nafsiyati, Naveed alias Polka, Muhammad Ali Rizvi and Shahrukh alias Mani who were sentenced to life in prison. One accused identified as Shakeel was set free due to lack of evidence.
Last week, Mehmood and five other criminal suspects were arrested in a raid at the Karachi headquarters of secular political party Muttahida Qaumi Movement (MQM) party in the early hours of Monday, March 11. It was reported that Pakistani rangers carried out a raid at Nine Zero (MQM's headquarters) and surrounding areas, including Khursheed Begum Memorial Hall. MQM is Pakistan's third largest political party and considered the most influential secular political organisation.
The PFUJ said: "We welcome the news that convicted killer of reporter Wali Khan Babar was taken into custody by paramilitary forces during operation on headquarters of a political party in Karachi and hope that now the concerned authority would implement the judgment of the court with no delay."
IFJ Asia Pacific deputy director, Jane Worthington, said: "We commend this victory for justice, but the battle must continue for the countless other journalists for whom justice has been denied. Killers and masterminds need to be found and brought to justice."
The IFJ said the conviction and arrest of a key killer in the Wali Khan Babar case cannot be understated in a climate as brutal as Pakistan's. The culture of impunity across Pakistan continues to weaken press freedom and threatening the safety of all journalists as does the low rate of convictions for journalist killers.
"We welcome the efforts of government to the capture this killer in a case of major national significance. It alone has proven justice can be delivered with the targeted efforts by government. But it is also important to reinforce that this can only happen alongside a strong and empowered civil society, a credible and transparent legal system and brave monitoring by our affiliates and the promotion of safety among media workers."
Written By

IFJ Asia-Pacific
The IFJ represents more than 600,000 journalists in 140 countries.
For further information contact IFJ Asia-Pacific on +61 2 9333 0946
Find the IFJ on Twitter: @ifjasiapacific
Find the IFJ on Facebook: www.facebook.com/IFJAsiaPacific
Comments