Attacks on Media
Impunity for religious extremists threatens peace in the Maldives
15 Apr, 2021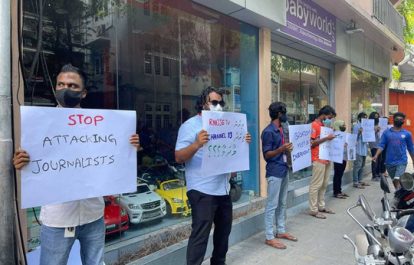 A failure to prosecute past crimes by religious extremists in the Maldives is causing major problems for the future of democracy in the country. Fazla Abdul-Samad unpacks the situation.
Despite recent steps to put the Maldives back on the road to democracy, undoing decades of political patronage has proven difficult since the reign of the current Maldivian President, Ibrahim Mohammed Solih, started in 2018.
While there are no organised armed jihadi groups in the Maldives, past threats and attacks against journalists and bloggers have been linked to criminal gangs that hold Islamist beliefs and who have incited ideologically motivated violence. These groups are known to have ties to powerful politicians, who have allowed a culture of impunity to spread, seriously undermining the rule of law and the delivery of justice.
In September 2019, a presidential commission was created to independently investigate unresolved murders and disappearances. It revealed that a local extremist group affiliated with al-Qaeda had organized and funded the abduction and murder of local journalist and activist Ahmed Rilwan.
The commission revealed that before Rilwan's abduction in August 2014, Bilad al-Sham Media — a social media forum run by Maldivians fighting in Syria with the al-Qaeda affiliated Al-Nusra Front — accused Rilwan of providing information to the police about Maldivian militants in Syria and their affiliates in the Maldives. Bilad al-Sham Media also accused Rilwan of apostasy for his articles for Maldives Independent (formerly known as Minivan News).
The commission's investigation also found that the same extremist group was responsible for a spree of murders including, the 2007 Sultan Park bombing in Malé, the attempted murder of blogger Ismail Hilath Rasheed in June 2012, the murder of reformist Islamic scholar Dr Afrasheem Ali in October 2012 and the murder of blogger Yameen Rasheed in 2017.
The commission demonstrated how the extremist group enjoyed complete state protection, confirming longstanding suspicions that the police buried evidence linking Rilwan's abduction to these extremist gangs. According to former chair of the commission and current Maldivian Supreme Court Justice, Husnu Al Suood, former Maldivian President, Abdulla Yameen, and his former deputy, Ahmed Adeeb, tried to derail earlier investigations into the case.
Despite these findings, the delivery of justice has been slow, with no closure in sight for the families of the murdered. In Rilwan's case, no-one has yet been charged for his abduction and murder. While the trial of Yameen Rasheed's alleged murderers is ongoing, his family and human rights organisations have repeatedly expressed concerns over long periods between hearings and other delaying tactics from defence lawyers.
As the culture of impunity marches on, extremist ideologues are using online platforms to incite violence and hatred against human rights defenders, including journalists, and rights organizations. In June 2020, Uthema, an NGO advocating for gender equality, was targeted for endorsing a Maldivian Democracy Network (MDN) report that analysed radicalization in the country and called for the government to implement recommendations to prevent it.
The social media campaign to ban Uthema followed a similar campaign in 2019 to ban MDN over the radicalization report, considered to be anti-Islamic by some extremist groups. Instead of coming up with effective policies and mechanisms to address growing polarization and hateful extremism, the Maldivian government de-registered and banned MDN on December 19, 2019.  In Uthema's case, government remained silent on the issue even as local councils and the Islamist-oriented Adhalath Party — a member of the ruling coalition government — joined the calls to ban Uthema and take action against its leadership.
It is important to note that there has not been a single murder, abduction or assault against journalists since Ibrahim Mohammed Solih assumed office as president in 2018. However, the social media campaigns against MDN and Uthema demonstrate the prevalence of online violence being delivered through anonymous social media accounts and digital news outlets aligned with extremist ideologies. The government must stand up to condemn, investigate and prosecute perpetrators of violence in the Maldives to ensure the full restoration of freedom of expression and to ensure the safety of journalists and human rights defenders in the Maldives. Without it, all attempts will be stillborn.
Fazla Abdul-Samad is a freelance researcher based in the Maldives.This is an excerpt of her impunity research for the International Federation of Journalists (IFJ) and the Maldives Journalists Association (MJA).
Comments