Press Statement
India: Arrest in editor's killing beginning of road to justice
14 Mar, 2018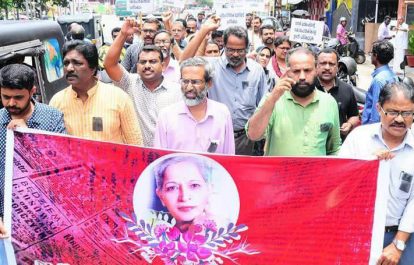 Over six months after the cold-blooded murder of senior journalist Gauri Lankesh in Bangalore, India, an arrest was made of the first accused KT Naveen Kumar. The IFJ urges the Indian authorities to step up the investigation to arrest and prosecute all responsible people for the killing.
KT Naveen Kumar, a member of a hard-line Hindu group the Sanatan Santha, was arrested by the Special Investigation team (SIT) on February 18 on suspicion of supplying the weapons used for the shooting. He is also suspected to have surveyed and pointed out Lankesh's house to a group of killers who came from outside Karnataka to carry out the killing.
Naveen Kumar was produced before the magistrate's court on March 12 and was remanded in judicial custody for 15 days. He will also undergo a narco-analysis test to understand the depth of his knowledge about the conspiracy to kill Lankesh.
Lankesh, 55, a respected veteran journalist and editor of a Kannada language weekly newspaper Gauri Lankesh Patrike and outspoken critic of Hindu nationalists, was shot dead outside her home in Rajarajeshwarinagar in northern Bengaluru, Karnataka, as she returned from work on September 5, 2017. Three unidentified gunmen on a motorbike had fled after firing at least seven shots at her as she entered through the gate of her home. Lankesh died on the spot. Despite nationwide protests, and repeated commitment from the authorities, the police had failed to arrest anyone for more than six months.
The IFJ said: "While the IFJ welcomes the arrest in the murder of Gauri Lankesh, we demand the authorities step up the investigation. The culture of impunity in India will continue to run rife unless immediate action is taken by the government. All those responsible, including the masterminds must be arrested and prosecuted."
Written By

IFJ Asia-Pacific
The IFJ represents more than 600,000 journalists in 140 countries.
For further information contact IFJ Asia-Pacific on +61 2 9333 0946
Find the IFJ on Twitter: @ifjasiapacific
Find the IFJ on Facebook: www.facebook.com/IFJAsiaPacific
Comments