Press Statement
India: Bhumkal Samachar editor assaulted and threatened
29 Sep, 2020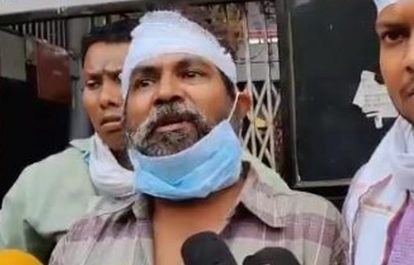 Kamal Shukla, the editor of Bhumkal Samachar magazine and head of the Patrakar Suraksha Kanoon Sanyukt Sangharsh Samiti, an organisation to protect journalists, was assaulted and threatened by ruling party cadres in the Kanker district of Chhattisgarh. The International Federation of Journalists (IFJ) and its Indian affiliate Indian Journalists Union (IJU) condemn the politically motivated attack and urge authorities to conduct an impartial investigation to the case.
 Shukla, the 53 year old veteran journalist, was brutally assaulted and threatened as he left the Kankar city police station on September 26 after supporting another journalist, Satish Yadav, to file case against local municipal leaders of ruling Congress party who had assaulted Yadav.
The attack on Shukla took place in broad daylight and was filmed. Shukla said he thought he would get some protection inside the police station but the police were unresponsive and told him to file his complaint and leave.
Shukla suffered injuries to his neck and head. He was rescued and taken to a hospital where he got three stiches on his head. Another journalist Jeevananda Haldar also injured when he attempted to protect Shukla.
According to journalist Shukla, ruling party congress leaders and party cadres were behind both the attacks. Shukla's attack is reported as a retaliation of his news report that exposed the sand mafia in Chhattisgarh.
Shukla filed First Information Report (FIR) Kankar city police station under sections 294 (Whoever, to the annoyance of others does any obscene act in any public place), 323 (voluntarily causing hurt), 506 (criminal intimidation) and 34 (common intent) of the Indian Penal Code. Following the FIR, Kanker ward councilor Shadab Khan, ex-councilor Jitendra Singh Thakur, journalist Ganesh Tiwari and Congress MLA's representative Abdul Gaffar Memon have been arrested and are due to be interrogated.
Journalist associations in India organized protest program demanding all the culprits be arrested by October 1. The association plans an indefinite sit in protest from October 2.
The IJU president Geetartha Pathak said: "The IJU condemns the heinous attack on senior journalist Kamal Shukla and urges the Chattisgarh Chief Minister Bhupesh Baghel to initiate an inquiry and book the culprit associated with the assault of Shukla."
The IFJ said: "The IFJ notes the attack to the journalist Shukla as a politically motivated retaliation. The sole aim of the attack is to silence the critical voices against wrongdoings of the ruling party and the government. The IFJ strongly condemns the incident and urges the Chhattisgarh chief minister Bhupesh Baghel  to conduct impartial investigation and punish the guilty."
Written By

IFJ Asia-Pacific
The IFJ represents more than 600,000 journalists in 140 countries.
For further information contact IFJ Asia-Pacific on +61 2 9333 0946
Find the IFJ on Twitter: @ifjasiapacific
Find the IFJ on Facebook: www.facebook.com/IFJAsiaPacific
Comments