Press Statement
India: Broadcast journalist arrested after critical news report
19 Oct, 2020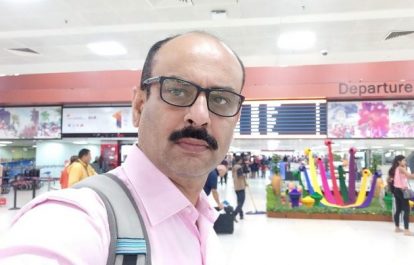 Ramesh Rath, a senior journalist affiliated with Odisha Television (OTV) was arrested in Odisha's capital Bhubaneswar on October 15. The International Federation of Journalists (IFJ) and its Indian affiliate the National Union of Journalists- India (NUJ-I) denounce the incident and urge the Odisha government to allow media houses and journalists to report independently.
Rath was reportedly picked up by a group of policemen nearby his residence in Bhubaneswar a day after the channel questioned Odisha Chief Minister Naveen Patnaik's aerial survey of flood-hit areas. Following the arrest, his mobile phone was seized and he was not allowed  to make any calls, even to his family members. According to Radhamadhav Das, OTV's editor, police seized some documents and computer hard disks from the journalist's residence and OTV office as well.
OTV terms the incident being in retaliation of series of the investigative news reports broadcast on the network. On October 14, OTV broadcast a news report that questioned Odisha Chief Minister Naveen Patnaik's aerial flood assessment, with Rath highlighting inconsistencies in the Chief Minister's claims.
Police however claim that Rath was not arrested but was questioned in connection with an old case related to circulation of an "obscene" video clip of a woman member of parliament. The case dates back to April last year and alleges that the senior reporter was involved in uploading an obscene video on social media platforms.
The NUJ-I President Ras Bihari said: "National Union of Journalists (India) condemn the arrests of Odisha TV reporter Ramesh Rath . NUJ-I believe that due to the political reasons, the government of Odisha is persecuting the TV channel's journalist. We urge Indian Prime Minister to intervene in the matter."
The IFJ said : "The IFJ is against any baseless and false allegations against a journalist that are clearly intended to silence critical voices. The arrest and intimidation of journalists threatens and undermines the independence of media organisation." 
Written By

IFJ Asia-Pacific
The IFJ represents more than 600,000 journalists in 140 countries.
For further information contact IFJ Asia-Pacific on +61 2 9333 0946
Find the IFJ on Twitter: @ifjasiapacific
Find the IFJ on Facebook: www.facebook.com/IFJAsiaPacific
Comments