Press Statement
India: Court finds Kashmir shutdown "impermissible"
15 Jan, 2020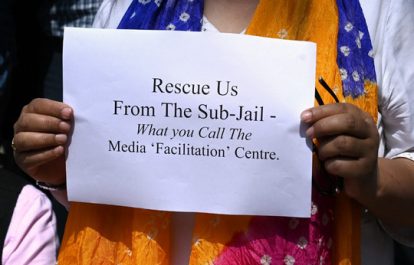 The Supreme Court of India ordered the Indian government to review restrictive orders on internet service in Indian-administered Kashmir on January 10. The International Federation of Journalists (IFJ) and its affiliate the Indian Journalists Union (IJU) welcome the verdict and urge the immediate lifting of the ban in Kashmir.
A three-judge bench of Justices N V Ramana, R Subhash Reddy and B R Gavai determined the internet shutdown was illegal and called for restrictions to be reviewed within a week. The current internet shutdown was imposed in Kashmir on August 5, 2019. This followed the revocation of Article 370 of the Indian Constitution, which removed the independence of Jammu and Kashmir. The court found the internet shutdown disrupted the freedom of the press, with Justice N V Ramana reaffirming that the "freedom of internet access is a fundamental right".
The Supreme Court ruling termed the indefinite suspension of internet services as "impermissible" and that restrictions can "be temporary only". However, it fell short by not issuing an order for immediate restoration of internet services.
The IJU said it welcomed the verdict, but noted it failed to reference the impact on press freedom and the ability for journalists to do their work during such a shutdown. The absence of internet and broadband services has meant media has been unable to upload news online. The ongoing shutdown has also triggered widespread job losses and salary cuts.
The IFJ's Indian affiliate IJU urged Indian authorities to lift the internet and communications shutdown and adhere to the spirit of the Supreme Court order. It also called on the national government to "internalize the SC verdict" to ensure that responsible governments are required to respect media freedom at all times.
The IJU said: "Journalists are to be accommodated in reporting and there is no justification for allowing a sword of Damocles to hang over the press indefinitely'."
The IFJ said: "It is now crucial for the Indian government to follow the court's ruling and show a commitment to press freedom in Jammu and Kashmir by removing all internet and communication restrictions immediately.
Written By

IFJ Asia-Pacific
The IFJ represents more than 600,000 journalists in 140 countries.
For further information contact IFJ Asia-Pacific on +61 2 9333 0946
Find the IFJ on Twitter: @ifjasiapacific
Find the IFJ on Facebook: www.facebook.com/IFJAsiaPacific
Comments