Press Statement
India: Doors close for newspapers in unprecedented economic times
01 Jun, 2020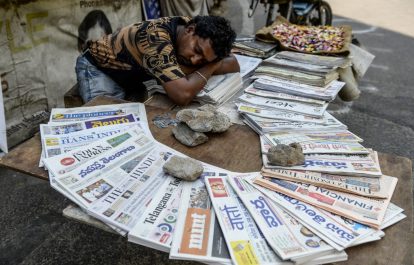 The Sakal Media Group announced plans to close two of its publications leaving at least 45 editorial staff and non-editorial staff unemployed. The International Federation of Journalists (IFJ) and its Indian affiliates, the Indian Journalists Union (IJU) and the National Union of Journalists (India) (NUJ-I) express concern over mass layoffs and newspaper closures.
 Sakal Media Group's chief executive officer, Uday Jadhav held a meeting on May 27 informing staff of the impacts of Covid-19 on the media group, announcing the closure of Sakal Media Group's newspapers, Gomantak Times on May 27 and Sakal Times on June 1. Sakal Media Group's requested staff resign by May 31, offering staff one month of salary despite attempting to negotiate for three months salary as compensation.
In March, Sakal Media Group asked another 15 from the Sakal Times editorial division to resign. The company has continued to cite the economic repercussions of Covid-19 as the reason for the layoffs.
The IJU said: "Closing down of the editions and subsequent loss of jobs of journalists during these unprecedented times is both unethical and unfair. The IJU urges media houses to refrain from taking such drastic steps and calls on the government to introduce a stimulus package to the media industry."
The NUJ-I said: "We strongly condemn the closure of Sakal Times and Gomantak Times under the pretext of COVID19 pandemic. NUJ-I is together with the journalists to discuss the issue and find a way out."
The IFJ said: "The IFJ urge media owners to understand the dire situation for journalists during the Covid-19 pandemic and the need for secure work. Since March, India has witnessed industry media wide layoffs and journalists working without pay. The IFJ urges the government to consult journalist unions and associations about developing a stimulus package that will secure a future for India's media industry."
Written By

IFJ Asia-Pacific
The IFJ represents more than 600,000 journalists in 140 countries.
For further information contact IFJ Asia-Pacific on +61 2 9333 0946
Find the IFJ on Twitter: @ifjasiapacific
Find the IFJ on Facebook: www.facebook.com/IFJAsiaPacific
Comments