Press Statement
India: Gujarati editor slapped with sedition charge for Covid-19 report
14 May, 2020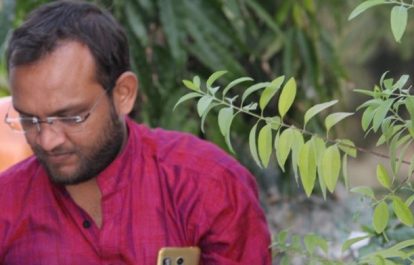 Dhaval Patel, the editor of Gujarati Face of Nation news website, was arrested on May 11 and charged with sedition for publishing a report that alleged Gujarat Chief Minister Vijay Rupani may be replaced for mishandling the Covid-19 response. The International Federation of Journalists (IFJ) and its Indian affiliates; the Indian Journalists Union (IJU) and the National Union of Journalists- India (NUJ-I) condemn the arrest and call on authorities to drop all charges against him.
Patel was detained at his residence after the Ahmedabad police registered a First Information Report (FIR) on May 8 against the editor under Section 124(A) of the Indian Penal Code and Section 54 of the Disaster Management Act. The FIR accuses the article of being "baseless" and inciting "instability and atmosphere of fear" during the pandemic.
The Face of Nation on May 7 published a report suggesting Chief Minister  Rupani may be replaced by Union Minister Mansukh Mandviya as the senior figures in the  BJP were unhappy with his performance on Covid-19 pandemic management.
If convicted of violating India's Sedition Law, Patel could face life imprisonment.  If he is convicted of spreading false claims amid the pandemic, he could be sentenced to two years in jail under the Disaster Management Act.
Earlier, Delhi police summoned Delhi based Indian Express's reporter Mahender Singh Manral for questioning on May 10 for his news reports about the alleged doctoring of an audio clip attributed to Tablighi Jamaat chief Maulana Saad. Also, during the lockdown, Himachal Pradesh's journalists faced FIRs and harassment for their alleged violation of the Indian Penal Code and the Disaster Management Act for their coverage during the Covid-19 lockdown.
IJU said: "The Indian Journalists Union (IJU) expresses grave concern over rising cases of State governments intimidating, harassing and detaining journalists by misusing the sedition law as well as Disaster Management Act. We urge the authorities to drop all charges against journalists who are risking their health and lives to report on Covid-19."
 NUJ-I said: "The arrest is arbitrary and amounts to a blatant misuse of law. NUJ-I demands the immediate and unconditional release of the journalist."
IFJ said: "Attempts by state governments including that of Gujrat state to criminalize journalism on spurious charges is not acceptable. IFJ calls on the authorities to drop all charges against Patel."
Written By

IFJ Asia-Pacific
The IFJ represents more than 600,000 journalists in 140 countries.
For further information contact IFJ Asia-Pacific on +61 2 9333 0946
Find the IFJ on Twitter: @ifjasiapacific
Find the IFJ on Facebook: www.facebook.com/IFJAsiaPacific
Comments