Press Statement
India: India blocks Kashmiri media outlet The Kashmir Walla
22 Aug, 2023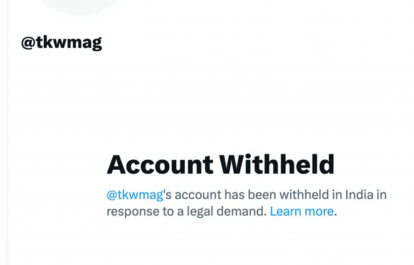 According to the news agency, which is located in Srinagar, access to its website and social media platforms was restricted inside India by Indian officials from August 19. In a statement the website's employees said: "On Saturday, August 19, we woke up to another deadly blow of finding access to our website and social media accounts blocked,"
The website's service provider verified the occurrence of the blocking, attributing it to the Ministry of Electronics and Information Technology of India. The action was taken allegedly in accordance with the IT Act 2000, which addresses matters pertaining to cybercrime and internet commerce.
Kashmir Walla staff reported that access to the website's account on X, the social networking platform formerly referred to as Twitter, had been restricted "in response to a legal demand." The latest publication on X was made in the morning of Saturday, August 19. Personnel also reported the outlet had received an eviction notice and had initiated the necessary procedures to vacate the office premises in Srinagar, Jammu and Kashmir's largest city.
Fahad Shah, the founder editor of The Kashmir Walla, has been incarcerated since February 2022 on allegations of "seditious" and "anti-India" articles as well as charges under the draconian Unlawful Activities Prevention Act, and the Public Safety Act (PSA). Several other Kashmiri journalists are facing intimidation and imprisonment, with their passports suspended and permission to travel revoked. The recent developments indicate further increased suppression of journalistic freedoms in the union territory since it was moved to direct governance by New Delhi in 2019.
DIGIPUB News India Foundation, a digital platform that represents online media in India, said the move reflects a "pattern of arbitrary misuse of the law." Since India revoked Kashmir's autonomy in 2019, DIGIPUB said the past four years "had a chilling effect on journalists, journalism, and the fundamental right to free speech".
After Shah's arrest, the paper reduced its workforce from 16 to six. According to The Kashmir Walla statement, those remaining work in "an already inhospitable climate for journalism in the region.
The IJU said: "This action of the J&K government is yet another blow to independent journalism in the Valley. It is an attack on freedom of press and makes all claims of government that normalcy is returning, clearly hollow. The Union demands that the media be allowed to do its job of keeping the citizenry well informed."
The IFJ said: "Yet again, there is an overstepping of power to exert censorship on critical voices in Jammu and Kashmir. The IFJ demands the Indian government immediately revoke the orders to block and censor The Kashmir Walla and respect press freedom which is clearly enshrined in its national constitution."  
Written By

IFJ Asia-Pacific
The IFJ represents more than 600,000 journalists in 140 countries.
For further information contact IFJ Asia-Pacific on +61 2 9333 0946
Find the IFJ on Twitter: @ifjasiapacific
Find the IFJ on Facebook: www.facebook.com/IFJAsiaPacific
Comments