Press Statement
India: Indian court issues warrant for journalist Paranjoy Thakurta
22 Jan, 2021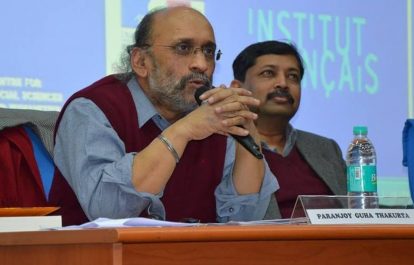 A Gujarat court has issued a non-bailable arrest warrant against senior Indian journalist Paranjoy Guha Thakurta following the filing of a defamation case by mining giant the Adani Group. The case pertains to an article Thakurta co-authored about Adani in 2017. The International Federation of Journalists (IFJ) and its Indian affiliate the Indian Journalists Union (IJU) condemn the widespread misuse of defamation law in India to target journalists and silence the media.
On January 20, judicial magistrate Pradeep Soni issued a direction to Nizamuddin police in New Delhi to arrest Thakurta, the former editor-in-chief of the Economic and Political Weekly (EPW). He was charged with a defamation complaint under Section 500 of the Indian Penal Code (IPC). "[The] accused stands charged with complaint under section 500 of IPC. You are hereby directed to arrest the said accused and to produce him before me," Judicial Magistrate Soni stated.
Adani filed its suit against two articles published in January and June 2017 titled "Did the Adani Group Evade Rs 1,000 Crore in Taxes?" and "Modi Government's Rs 500-Crore Bonanza to the Adani Group". The articles were first published in the Economic and Political Weekly and later in The Wire. They were co-authored by Thakurta and three other journalists, Abir Dasgupta, Advait Rao Palepu and Shinzani Jain and argued India's government had unduly favoured the Adani Group, facilitating its expansion and tax evasion.
After receiving a warning from the Adani Group, EPW management removed the articles, leading to Thakurta's resignation, while The Wire remained firm and retained the piece on its website.
Adani then filed two cases against the authors and the editors of The Wire in two different courts in Gujarat: a civil defamation suit in Bhuj and a criminal defamation case in Mundra. In 2018, the Bhuj court allowed The Wire to continue circulating the article with minor alterations and in 2019, the Adani Group withdrew both civil and criminal proceedings against all parties except Thakurta.
Journalists and media rights organisations have condemned the new arrest warrant, issued despite the prior rejection of the defamation suit by the Bhuj court.
The IJU Secretary General Sabina Inderjit said: "We condemn the arrest order against a renowned journalist. IJU has earlier demanded decriminalization of the defamation law which is a serious threat to freedom of press and media rights."
 The IFJ said: "The targeting of Paranjoy Thaturta is a despicable abuse of power and influence by the Adani Group that shows how India is falling foul to the weaponising and twisting of existing laws, including defamation law, to silence  critics. The higher judiciary should recognise that defamation law has long been misused to impede press freedom in India."
Written By

IFJ Asia-Pacific
The IFJ represents more than 600,000 journalists in 140 countries.
For further information contact IFJ Asia-Pacific on +61 2 9333 0946
Find the IFJ on Twitter: @ifjasiapacific
Find the IFJ on Facebook: www.facebook.com/IFJAsiaPacific
Comments