India
India: Journalist attacked for investigating factory
01 Jul, 2020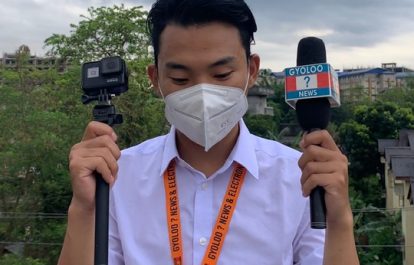 On the June 29, journalist Hofe Dada was confronted and assaulted while filming a piece on pollutions levels at a factory in Aruachal Pradesh. The International Federation of Journalists (IFJ) and its affiliate, Indian Journalists Union (IJU), denounce the attempts to silence Dada and call on the police to hold the perpetrators accountable.
Dada, a reporter from a local media outlet Gyoloo News, had been investigating the excessively high pollution levels produced by SMS Smelters Ltd in Lekhi village when he was attacked unprovoked by four men. The factory has continually produced substantial amounts of smoke, visible to those from surrounding villages. Despite explaining to the men that he was covering an issue that affected all members of the community, Dada was threatened with further violence and had his phone stolen. He immediately filed a complaint with Nirjuli police.
The incident is a frightening echo of the attempted assassination of Tongam Rina, a senior reporter from the same district, who was shot for her reporting. Although the incident occurred in 2012, with no perpetrators prosecuted  justice has still not been delivered. There are fears that the complacency of the legal system has encouraged perpetrators to silence reporters with any means possible.
The police have so far arrested one suspected assailant, Nangram Tapu, a security officer for SMS Smelters and have informed the media that they are also investigating the legality of the factory.
IJU said: "Attempts to intimidate the media are growing and the government must ensure the safety of all journalists. This recent incident makes it clear that the police expedite the investigations and take all necessary steps to ensure that decisive action will be taken against the culprits."
IFJ said: "This recent attack on Dada proves the urgent need for better protection for journalists in India and more accountability within the criminal justice system. IFJ implores authorities to strengthen the criminal justice process to ensure that journalists do not have live in fear for their reporting."
Download
Written By

IFJ Asia-Pacific
The IFJ represents more than 600,000 journalists in 140 countries.
For further information contact IFJ Asia-Pacific on +61 2 9333 0946
Find the IFJ on Twitter: @ifjasiapacific
Find the IFJ on Facebook: www.facebook.com/IFJAsiaPacific
Comments