Press Statement
India: Journalist attacked for reporting construction irregularities
12 Nov, 2020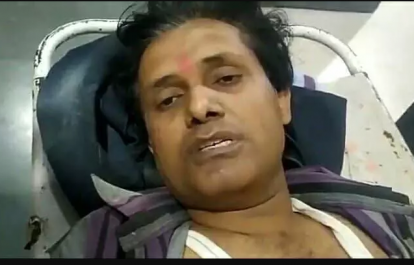 Vinay Tiwari, a journalist working for local Hindi news website Bundelkhand Times, was seriously injured in an attack allegedly by the family of Dhaurra village head and a number of other assailants in Lalitpur district of Uttar Pradesh. The International Federation of Journalists (IFJ) and its Indian affiliate National Union of Journalists- India (NUJ-I) denounce the attack and urge the Uttar Pradesh (UP) government to investigate the case and bring perpetrators to justice.
The 35-year old journalist was violently beaten with sticks and batonsreportedly by Dhaurra village head Babita Mishra, her husband Rameshwar Mishra, her son Vivek Mishra and other armed men as he was filming the construction of a link road at Dhaurra village on November 7. The assailants stopped Tiwari from reporting, attacking him and snatching his phone, camera and stealing cash from his pocket. Tiwari was left seriously injured with multiple fractures all over his body.
Tiwari was collecting information, checking facts and filming interviews on alleged irregularities in the rural road construction. Tiwari had pointed out the non-implementation of Mahatma Gandhi National Rural Employment Guarantee Act (MNREGA) in the road construction project. The act stipulates the hiring of manual labour instead of the use of machines in road construction. The construction project, managed under the leadership of Mishra, however, failed to meet the guideline as specified by the act.
The seriously injured journalist was then taken to Lalitpur district hospital for treatment. Later, he was referred to Jhansi Medical College as his condition was critical.  The district police have registered the case under Section 307 (attempt to murder), 323 (assault), 504 (abusive death) and 506 (threatening to kill) of the Indian Penal Code (IPC) against village head Babita Mishra, her husband and Bharatiya Janata Party(BJP) leader Rameshwar Mishra, her  sons Abhishek Mishra and  Bharat Mishra. According to the police, Abhishek Mishra has been arrested.
Attacks on journalists and activists are frequent in Uttar Pradesh. Journalist Shubham Mani Tripathi was killed in the Uttar Pradesh's Unnao district on June 19 for exposing sand mafia and land grab issues.
The NUJ-I president Ras Bihari said: "The National Union of Journalists (India) strongly condemns the brutal attack on journalist Vinay Tiwari (35) in Lalitpur of Uttar Pradesh. We demand UP's Chief Minister Yogi Adityanath to constitute a high level inquiry committee, investigate the case and punish the culprits."
The IFJ said: "Attacks on journalists whether be they at the hands of authorities, thugs or the mafia are on the rise in India as a whole and Uttar Pradesh in particular. The IFJ urges the government to take serious action on crimes against journalists and media workers to ensure justice is delivered."
Written By

IFJ Asia-Pacific
The IFJ represents more than 600,000 journalists in 140 countries.
For further information contact IFJ Asia-Pacific on +61 2 9333 0946
Find the IFJ on Twitter: @ifjasiapacific
Find the IFJ on Facebook: www.facebook.com/IFJAsiaPacific
Comments