Press Statement
India: Journalist charged for reporting mismanagement of quarantine centre
20 May, 2020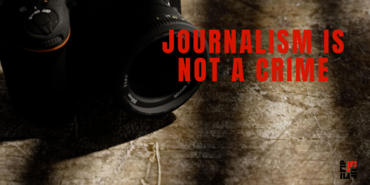 The Uttar Pradesh (UP) government has filed a First Information Report (FIR) against Today 24 news journalist Ravindra Saxena for his report highlighting the mismanagement of a quarantine centre in the Sitapur district. The International Federation of Journalists (IFJ) and the National Union of Journalists- India condemn the FIR on false accusations and call on the UP government to withdraw the criminal proceedings against the journalist.
Journalist Ravindra Saxena  was sued on May 18 under the Prevention of Atrocities Act and  the Disaster Management Act  in an order from Uttar Pradesh Chief Minister Yogi Adityanath for a video report on the  mismanagement of a quarantine centre in Maholi Tehsil in the  Sitapur district of  Uttar Pradesh. People kept in the quarantine centre had complained that the UP administration was serving rotten rice.
The FIR against Saxena is one in a series of cases launched against journalists for their critical report of the government's poor handling of the Covid-19 pandemic. Earlier, Dhaval Patel, the editor of Gujarati Face of Nation news website, was arrested on May 11 and charged with sedition for publishing a report that alleged Gujarat Chief Minister Vijay Rupani may be replaced for mishandling the Covid-19 response. Similarly, on May 10 Delhi police summoned Delhi based Indian Express reporter Mahender Singh Manral for questioning over his news reports about the alleged doctoring of an audio clip attributed to Tablighi Jamaat chief Maulana Saad. Also, during the lockdown, Himachal Pradesh's journalists faced FIRs and harassment for allegedly violating the Indian Penal Code and the Disaster Management Act for their coverage during the Covid-19 lockdown.
NUJ-I said: "The government and police must recognise that the media is an integral part of the governance structure in any democracy. The NUJ(I) condemns these actions and demands state and central governments to desist from misusing the law to threaten the free press."
IFJ said: "The present trend suggests that state governments of India are trying to silence the critical voice by lodging FIRs against journalists on trumped up charges for their critical reporting regarding the clear mismanagement of the response to Covid-19. These acts are a violation of the public's right to know. The IFJ calls on the authorities to drop all charges against Ravindra Saxena and cease the harassment of journalists for reporting on the health pandemic."
Written By

IFJ Asia-Pacific
The IFJ represents more than 600,000 journalists in 140 countries.
For further information contact IFJ Asia-Pacific on +61 2 9333 0946
Find the IFJ on Twitter: @ifjasiapacific
Find the IFJ on Facebook: www.facebook.com/IFJAsiaPacific
Comments