Press Statement
India: Journalist shot dead in alleged retaliation for reporting
24 May, 2022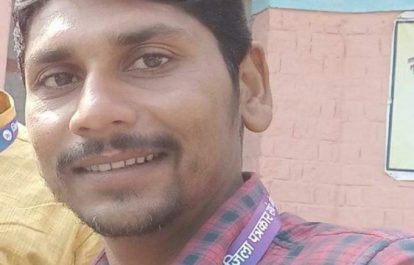 Journalist Subhash Kumar Mahto was shot dead near his home in Sakho village in the Begusarai district of Bihar on the evening of May 20, allegedly for his reporting on local gangs in the area. The International Federation of Journalists (IFJ) strongly condemns the murder and urges the Indian authorities to expedite investigation on the case and bring the perpetrators to swift justice.
Four unidentified assailants shot Mahato from close range at around 9 pm as he returned to his home with his father and other relatives from a community wedding dinner. The gunmen fled once Mahato fell and the journalist was rushed to a local government health centre for treatment, But he was declared deceased on arrival.
Mahato, associated with a Public App platform and Begusarai's local cable channel City News, was known for his investigative news reports into issues relating to liquor and sand mafia in the region. He was also an active supporter a ward member candidate in the Panchayat elections.
Saurabh Kumar, a local journalist and general secretary of Begusarai District Journalists Association argued that his reporting on various mafia organisations and his political affiliation may be a reason for his murder. Kumar said he also suspects that a group angered with his reporting hired professional assassins to kill the journalist.
Local police stated that investigation into the case has begun and they are close to identifying the alleged culprits.
According to police's initial investigation, the immediate reason for Mahato's murder is a heated exchange during the wedding ceremony he attended the same evening. However, police also suspect his reporting to be a factor in the case.
In 2018, Mahato was arrested under India's Information Technology (IT) Act for a video report but was granted bail by a local court. He is the second journalists to be killed in India in 2022. Journalist Rohit Biswal, of Dharitri, was killed by an improvised explosive device (IED), allegedly planted by Maoist insurgents, in February 2022.
The IFJ General Secretary Anthony Bellanger said: "The IFJ strongly condemns the coldblooded murder of journalist Subhash Kumar Mahto and urges the Indian authorities to immediately investigate the crime and bring justice to the perpetrators. India must not allow impunity for crimes against journalists to continue."
Written By

IFJ Asia-Pacific
The IFJ represents more than 600,000 journalists in 140 countries.
For further information contact IFJ Asia-Pacific on +61 2 9333 0946
Find the IFJ on Twitter: @ifjasiapacific
Find the IFJ on Facebook: www.facebook.com/IFJAsiaPacific
Comments