Press Statement
India: Journalist Siddique Kappan released after 28 months
07 Feb, 2023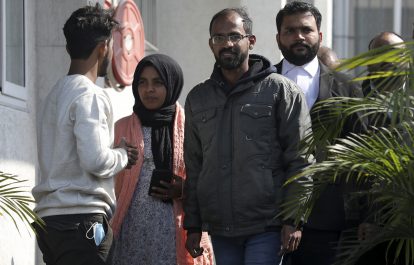 Kappan was arrested on October 5, 2020, in India's northern state of Uttar Pradesh. The senior journalist had travelled to the state to report on a high-profile gang-rape incident in Hathras, wherein a young woman belonging to the Dalit community died after allegedly suffering sexual assault from a group of upper-caste men. Uttar Pradesh government authorities deemed the resulting public outrage a deliberate conspiracy to incite riots along caste lines.
Police accused Kappan and three of his colleagues of conspiring to incite a riot, and 'creating communal disharmony', through which he was charged under India's Unlawful Activities Prevention Act. Later, India's Enforcement Directorate (ED), a government agency tasked with investigating financial crime, filed a second case against Kappan under the Prevention of Money Laundering Act in February 2021. The ED accused the journalist of receiving money from the Popular Front of India, an outlawed Muslim group in India.
Despite Kappan being granted bail for the first case by India's Supreme Court on September 9, 2022, he remained in jail due to ongoing investigations into his alleged financial crimes. After being granted bail by Allahabad High Court on December 23 on the second case related, 'procedural delays' forced the journalist to remain in jail until February 2.
After his release from Lucknow jail, Kappan announced his intention to continue journalism, vowing to fight against the charges laid against him and the unjust legal imbroglio that led to his two-year imprisonment. The journalist has claimed that police tortured him physically and mentally during his imprisonment.
The IJU said: "The IJU welcomes the court order for releasing Siddique Kappan, after his remaining in jail for more than two years. The IJU thanks its state affiliates and other journalists' unions and civil society groups for their continued advocacy calling for his release and clearance against all charges."
The NUJ-I said: "The NUJ-I denounces the Uttar Pradesh Police for fabricating a case against Siddique Kappan, a journalist who was performing his duty. The bail order represents justice and the protection of media freedom."
Written By

IFJ Asia-Pacific
The IFJ represents more than 600,000 journalists in 140 countries.
For further information contact IFJ Asia-Pacific on +61 2 9333 0946
Find the IFJ on Twitter: @ifjasiapacific
Find the IFJ on Facebook: www.facebook.com/IFJAsiaPacific
Comments