Press Statement
India: Journalists assaulted while covering violent clashes
05 Sep, 2019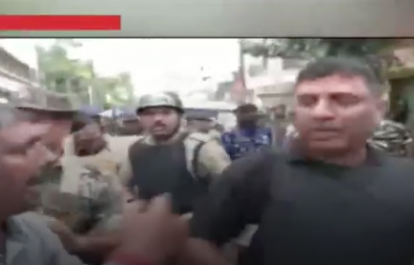 Senior police assaulted several journalists as they covered violent clashes in Barrackpore, a city in West Bengal, on Sunday, September 1. The International Federation of Journalists (IFJ) and its affiliate the National Union of Journalists (NUJ) in condemning the attack and demanded the police investigate the incident.
The protest by the supporters of Bharatiya Janata Party (BJP) against the capture of the party office by The Trinamool Congress (TMC) turned violent. In the clashes, Arjun Singh, the member of the parliament from the Bharatiya Janata Party (BJP) suffered head injuries after he claimed that the police hit him with the baton.
Following the clashes, the police then tried to enter the residence of Arjun Singh. Local reporters were present at the venue to cover the story. In the tense situation, the Deputy Comissioner of Police Barrackpore Ajay Thakur was caught on camera as he hit a  journalist. Several other journalists also said that they were assaulted at the same incident.
NUJ India will send a fact-finding committee and urge the state government to set up a high-level judicial committee to probe the incident and punish the guilty police officers for assaulting journalists. NUJ(I) also demand for the enactment of the Journalists Protection Act and call the authorities to ensure the security of the media persons, while covering different events in the states.
The IFJ said: "We condemn the assault against journalists. The perpetrators should not go unpunished. We call the authorities to take action on the attack. Journalists must be free and secure to report on issues. Journalists should not fear for their safety."
Written By

IFJ Asia-Pacific
The IFJ represents more than 600,000 journalists in 140 countries.
For further information contact IFJ Asia-Pacific on +61 2 9333 0946
Find the IFJ on Twitter: @ifjasiapacific
Find the IFJ on Facebook: www.facebook.com/IFJAsiaPacific
Comments