Press Statement
India: Kashmir authorities escalate attacks against media workers
19 Oct, 2021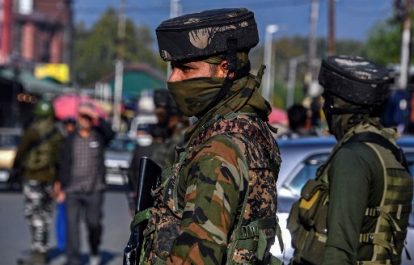 Kashmir authorities have detained and questioned five journalists and media workers since October 8, two of whom remain imprisoned, as hostility towards media increases in the region. The International Federation of Journalists (IFJ) and its Indian affiliates, the Indian Journalists' Union (IJU) and the National Union of Journalists – India (NUJ-I), condemn the intimidation and harassment of journalists in Kashmir and call for the journalists' immediate release.
In South Kashmir's Anantnag district, editor of weekly digital magazine Kashmir First, Salman Shah, was detained after a raid of his residence on the night of October 12. Freelance journalist and contributor to private news websites The Kashmiriyat and Maktoob Media, Suhail Dar, was also detained by Kashmir authorities on October 8, with both Shah and Dar moved to Anantnag jail on October 14. Anonymous government officials said that the two journalists were accused of disturbing the public piece and charged under sections 107 and 151 of the Indian Penal Code.
In Srinagar, Mukhtar Zahoor, photojournalist and stringer for the BBC, was detained overnight at a police station after a midnight raid of his home on October 12. According to Zahoor's relatives, police seized his camera and did not specify a reason for his detainment. Zahoor said police questioned him on his whereabouts on September 1, the day separatist leader, Syed Ali Shah Geelani died, despite already having all the relevant data on his whereabouts and movements for that period. "They also checked my phone and inquired about all the pictures in my gallery," he said. Following his questioning, Zahoor was released.
On October 13, freelance journalist, Majid Hyderi, was summoned by Jammu and Kashmir's anti-insurgency police unit for questioning related to his social media posts, two of which were regarding separatist leader, Syed Ali Shah Geelani and Muharram, the advent of the Islamic New Year. Muharram processions were banned in Kashmir 30 years ago until authorities lifted the ban in August of this year. Hyderi said that three plain-clothed police questioned him about his income sources as well as his decision to become a journalist.
Sajud Gul, a fourth freelance journalist and contributor to news websites The Kashmir Walla and Mountain Ink, was called in for questioning by authorities on October 13. Gul was questioned in relation to a video posted to his Twitter profile and a news report on the death of a young man in a gunfight on October 11. The video shows the deceased's family claiming that police orchestrated the young man's death. Gul was subsequently released after an hour of questioning.
The five detainments coincide with the arrival of the Press Council of India (PCI) in Kashmir on October 13. The PCI's three-member committee is investigating claims of intimidation and harassment against journalists. Journalists in Kashmir continue to work under increasingly hostile conditions, with four journalists' homes raided before their questioning and temporary detainment last month.
The IJU president, Geetartha Pathak, said: "IJU demands the immediate release of journalists arrested and detained since October 8 and asks the Kashmir authorities to stop arresting and harassing journalists. If the pattern of attack on freedom of press in Kashmir is not resisted this may be extended in other parts of the country. IJU therefore appeals to all stakeholders of freedom of press and freedom of expression to raise their voice against the onslaught on the journalists in Kashmir."
The NUJ-I president, Ras Bihari, said: "Jammu and Kashmir is becoming a camp for terrorists and one of the world's most dangerous countries for journalists. They are exposed to every kind of attack, including police violence against reporters, ambushes by political activists, and reprisals instigated by criminal groups. This action is against Press Freedom, we are going to take up this issue with authorities."
The IFJ said: "These arbitrary detainments and investigations into media workers are further evidence of the increasing systemic intimidation and harassment of independent media by the authorities in Kashmir. These acts are not isolated incidents and are clear attempts to stifle a free press. The IFJ calls for the immediate release of Salman Shah and Suhail Dar and the cessation of police harassment towards journalists in Kashmir."
Written By

IFJ Asia-Pacific
The IFJ represents more than 600,000 journalists in 140 countries.
For further information contact IFJ Asia-Pacific on +61 2 9333 0946
Find the IFJ on Twitter: @ifjasiapacific
Find the IFJ on Facebook: www.facebook.com/IFJAsiaPacific
Comments