Press Statement
India: Kashmir Walla interim editor summoned by police
07 Jun, 2022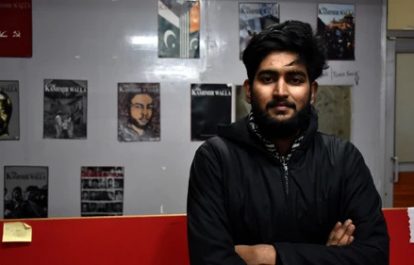 The State Investigation Agency of Jammu and Kashmir's (J&K) police questioned the interim editor of The Kashmir Walla, Yashraj Sharma, on June 2, regarding an article published by the digital paper 11 years ago. The International Federation of Journalists (IFJ) urges the Jammu and Kashmir administration to cease its relentless harassment of journalists and media workers and immediately withdraw the case.
Yashraj Sharma became the acting editor of The Kashmir Walla from February 4, following the repeated arrests of the online portal's editor, Fahad Shah, under multiple arbitrary charges.
Sharma was summoned as part of a police investigation into an article titled 'The Shackles of Slavery Will Break' published in The Kashmir Walla by author Abdul Aala Fazili, a PhD student at the University of Kashmir on November 6, 2011. Sharma, who joined The Kashmir Walla in 2018, was just 12 years old when the site published Aala's opinion article.
"Whereas it appears that you are acquainted with the circumstances of the case, which is under investigation at Police Station JIC /SIA, Jammu, You are hereby required to appear at Police Station JIC Miran Sahib, Jammu on or before 02-06-2022", the summons, issued under Section 160 of India's Criminal Procedure Code, stated.
J&K police filed the case in April against The Kashmir Walla, author Aala Fazili and other associates of the news site under Sections 13 and 18 of the Unlawful Activities (Prevention) Act, for 'punishment for unlawful activities' and 'involvement in terrorist acts' respectively, and four sections of India's Penal Code, including 'punishment for criminal conspiracy', 'waging or attempting to wage war against the Government of India', 'sedition', and 'assertions prejudicial to national-integration'.
The Kashmir Walla editor Fahad Shah, who has faced multiple charges since his initial arrest on February 4 and was sentenced under Jammu and Kashmir's Public Safety Act (PSA) on March 14, has already been questioned about the article. As the region's PSA allows up to two years detainment without trial, it is unclear when Shah will be released.
The article's author, Abdul Aala Fazili, was arrested by the State Investigation Agency on April 17, 2022.
The J&K region has seen an intensification of attempts to silence critical voices within the media, with attacks, arrests, intimidation, and legal harassment widespread since August 5, 2019, when the Indian Government revoked Article 370 of the Indian Constitution, which acknowledged the special status of the J&K state.
The IFJ said: "The filing of a case against Yashraj Sharma for an article published 11 years ago, when Sharma was 12 years old, is further indication of the Jammu and Kashmir authorities' relentless and unjustifiable harassment of independent media in the region. The IFJ condemns the Jammu and Kashmir administration's systematic efforts to stifle press freedom and prevent critical reportage. The continued persecution of The Kashmir Walla and its staff must cease and all detained journalists, including Sharma and Shah, should be immediately released."
Written By

IFJ Asia-Pacific
The IFJ represents more than 600,000 journalists in 140 countries.
For further information contact IFJ Asia-Pacific on +61 2 9333 0946
Find the IFJ on Twitter: @ifjasiapacific
Find the IFJ on Facebook: www.facebook.com/IFJAsiaPacific
Comments