Attacks on Media
India: Kashmiri journalist detained in nocturnal raid
18 Feb, 2020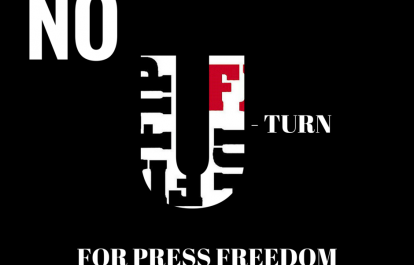 Kamran Yousuf, a multimedia journalist who works with Newsclick, was detained by Pulwana police late in the evening of February 16 and interrogated for several hours. The International Federation of Journalists (IFJ) and its affiliate the Indian Journalists Union (IJU) condemn Yousuf's illegal detention.
Police officers led by the Deputy Superintendent of Police (DSP) and Station House Officer (SHO) surrounded Kamran Yousuf's house in Kashmir's Pulwana district at 11 pm on February 16, before knocking on the door. When Yousuf answered, he was taken by police van to the DSP Pulwana office.
Yousef told IFJ monitors that the police officials asked him to come with them and took his phone. At the station, police accused him of running a Twitter account under the name Kamran Manzoor, noting the account was used on February 16 to post a video of Syed Ali Geelani, a pro-Pakistan freedom leader in Kashmir
Yousuf said: "They checked my phones and searched everything on it. They asked me about some Kamran Manzoor and showed me his Twitter account. The police officer said we had suspicion that you are running it." He was released two hours later at 1am on February 17.
Kashmir Press Club said, "The police's nocturnal raid at the house of a journalist has once again highlighted the dangers faced by journalists in the Valley". It called for "constitutionally guaranteed freedom of expression and speech" to be respected by letting press and journalists to function freely.
The IJU said: "IJU joins Kashmir Press Club in demanding the union home minister as well as the J&K government to take action against such rampant harassment of journalists since August 5 last year."
The IFJ said, "The IFJ condemns the detainment and interrogation of Kamran Yousef and condemns the use of midnight raids with baseless evidence as a means to intimidate and silence journalists."
Written By

IFJ Asia-Pacific
The IFJ represents more than 600,000 journalists in 140 countries.
For further information contact IFJ Asia-Pacific on +61 2 9333 0946
Find the IFJ on Twitter: @ifjasiapacific
Find the IFJ on Facebook: www.facebook.com/IFJAsiaPacific
Comments