Press Statement
India: Maharashtra journalist targeted in hit and run
09 Feb, 2023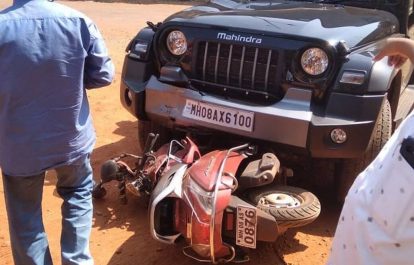 Maharashtra-based journalist Shashikant Warishe has been killed by a local realty broker hours after releasing a report alleging the broker had engaged in illegal land grabbing and was connected to senior Indian politicians. The International Federation of Journalists (IFJ) strongly condemns this brutal killing of a journalist for their reporting and urges the authorities to bring all perpetrators to swift justice.
On February 6, broker Pandharinth Amberkar allegedly drove his black Mahindra Thar SUV into Warishe on the Rajapur highway in the Konkan Region of Maharashtra. Warishe was struck down by the vehicle, which Amberkar was seen to be driving, while near a petrol pump and was dragged under the vehicle for several meters, sustaining fatal injuries.
The journalist was taken to the Civil Hospital in Ratnagiri, and then to the City Hospital, but despite medical efforts Warishe died on the morning of February 7. He is survived by his mother, wife and 19-year-old son.
The journalist had previously published a series of reports in the local Mahanagari Times, highlighting local opposition to the controversial establishment of the Ranagri Refinery & Petrochemicals LTD in Barsu. His most recent article, which was published just five hours before the fatal incident, accused Amberkar of being a 'criminal' and revealed the relationship between the land broker and senior politicians, including Narendra Modi and Maharashtra state leadership.
The incident has inspired condemnations from human rights organisations, press freedom advocates, and local environmental activists, who have condemned the incident, and called for an investigation into the circumstances of Warishe's killing.
According to local police, Amberkar was arrested on the evening of February 7 and will remain in custody until February 14. He has been charged with 'culpable murder', though activists have demanded the registration of murder charges against him.
IFJ General Secretary, Anthony Bellanger, said: "The brutal killing of Shashikant Warishe for his coverage of incidents of land grabbing is deplorable. Independent journalism on climate issues is of utmost importance, and the Indian government must guarantee protection for all journalists and ensure that impunity is not tolerated. The IFJ strongly condemns Warishe's killing and calls on the Indian and Maharashtra state authorities to launch an immediate, thorough, and transparent investigation into his death."
Written By

IFJ Asia-Pacific
The IFJ represents more than 600,000 journalists in 140 countries.
For further information contact IFJ Asia-Pacific on +61 2 9333 0946
Find the IFJ on Twitter: @ifjasiapacific
Find the IFJ on Facebook: www.facebook.com/IFJAsiaPacific
Comments