Press Statement
India: New form of censorship in Jammu and Kashmir
17 Sep, 2021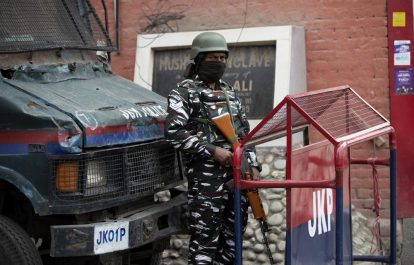 In the latest in a series of intimidation tactics against Kashmiri Journalists, the Jammu and Kashmir (J&K) administration has adopted a new order which requires all journalists to be authorised and registered before reporting in the field or publishing media coverage online. The International Federation of Journalists condemns this misuse of state power to suppress the media.
On July 24, the district magistrate of Kupwara, Imam Din, issued an 'order' instructing journalists to complete a 'registration' process to be eligible to continue reporting. Any journalist who is 'unregistered' or 'unauthorised' will be forced to "refrain from any media coverage until they complete their registration or obtain approval from the concerned regulatory authority."
The order document argues that there are large number of unauthorised media workers operating in Jammu and Kashmir, and that these unauthorised media persons are responsible for disseminating fake news and misinformation through social media . The document, which was addressed to the district's senior superintendent of police, also asked J&K Police not to allow any unregistered journalists to report from the field.
Members of the media have criticised the legislation, stating it is against the spirit of freedom of the press and freedom of expression.
Jammu and Kashmir journalists have been increasingly targeted, particularly after the abolishment of Article 370 on August 5, 2019, which gave special status to the region in the northern part of the Indian subcontinent. Kashmiri journalists often find themselves summoned to police stations and booked under various case. In a recent case on September 8, J&K authorities raided the Srinagar homes of Showkat Motta, the editor of Kashmir Narratormagazine; Hilal Mir, a reporter for the Turkey-based news outlet TRT World; and freelance journalists Azhar Qadri and Abbas Shah, before their temporary detainment and questioning. Similarly, J&K police chased a group of journalists and attacked them with batons while they were covering the Muharram procession in Srinagar on August 17.
The IFJ said: "The issuing of this unnecessary 'order' barring journalists from reporting independently both in the field and online is yet another grave threat to free and independent media. The IFJ strongly condemns this misuse of power, urging the J&K administration to allow journalists to report freely and abolish this new legislation."
Written By

IFJ Asia-Pacific
The IFJ represents more than 600,000 journalists in 140 countries.
For further information contact IFJ Asia-Pacific on +61 2 9333 0946
Find the IFJ on Twitter: @ifjasiapacific
Find the IFJ on Facebook: www.facebook.com/IFJAsiaPacific
Comments