Press Statement
India: Police action against website indicting Kashmir journalists
07 Oct, 2020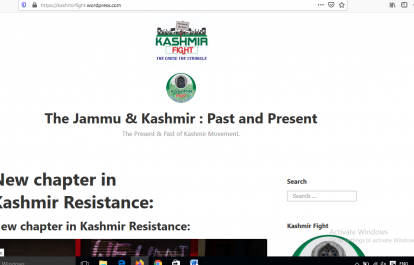 The Jammu and Kashmir Police have registered a First Information Report (FIR) on October 4 against a website that published a list of journalists and activists allegedly funded by the Indian government to spread public anxiety. The International Federation of Journalists (IFJ) and its Indian affiliate the Indian Journalists Union (IJU) support this request and urge the public not to distribute propagandist and provocative material.
On October 1, a list containing the names of multiple Indian journalists and political activists, including several working for national news programs, was published through the Kashmirfight website. The Jammu and Kashmir Police issued a statement condemning the site for its creation of 'fear psychosis' among the included individuals and "propagating secessionist and terror related ideology" to separate the Union Territories of Jammu and Kashmir from the Union of India.
A FIR, a document prepared by Indian police after the receipt of information regarding a cognisable offence, is now lodged against the URL handler for the circulation of content detrimental to sovereignty, integrity and the preservation of peace. The police statement called for the general public to ignore derogative or inflammatory posts or websites, and not partake in their further circulation or distribution, which may instigate legal consequences.
This comes amidst a turbulent period of journalistic repression in Indian-administered Kashmir, with the suspension of telecommunications, intimidation and censorship an enduring issue. The FIR has been registered under Section 506 of the Indian Penal Code.
The IJU president Geetartha Pathak said: "The IJU condemns the vilification campaign against Journalists of the valley through some propaganda websites and other digital platforms."
The IFJ said: "The ongoing restriction of press freedom in Kashmir have negatively impacted the ability of journalist to report and denigrated journalist safety. The IFJ calls on the local authorities to prosecute the distribution of propaganda and terror related materials for the purpose of provoking fear and violence, and protect the interests and freedoms of political journalists in the region."
Written By

IFJ Asia-Pacific
The IFJ represents more than 600,000 journalists in 140 countries.
For further information contact IFJ Asia-Pacific on +61 2 9333 0946
Find the IFJ on Twitter: @ifjasiapacific
Find the IFJ on Facebook: www.facebook.com/IFJAsiaPacific
Comments