Press Statement
India: Police attack journalists amid the lockdown
26 Mar, 2020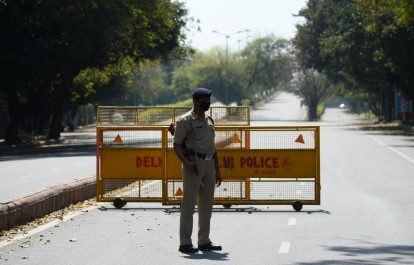 Police have harassed and attacked journalists in Hyderabad and Delhi on alleged breaches of lockdown orders amid the Covid-19 outbreak. The International Federation of Journalist (IFJ) and its India affiliates the Indian Journalists Union (IJU) and the National Union of Journalists (India) condemn the police brutality and urge Indian authorities to allow journalists to work without any restrictions.
These police attacks have occurred despite clear instructions issued by the Ministry of Information and Broadcasting on March 23 requesting all states and union territories allow journalists to work freely during the lockdown, recognising the essential role journalists play in disseminating reliable information during a health crisis.
According to media reports, police from Safdarjung police station stopped and beat Navin Kumar, a journalist at Hindi news channel Aaj Tak on March 23. When Kumar showed his identity card, police snatched his car key, wallet and mobile phone, and then three police allegedly beat him inside the police vehicle.
In other incidents in Hyderabad, police abused Ravi Reddy, the Hyderabad bureau-chief with The Hindu and verbally abused Andhra Jyothy journalist Mendu Srinivas. And Mohammed Hussain, a reporter for the English news website Siasat, tweeted that he was beaten by police officials with a baton in Hyderabad on Monday night while returning home from his office. The Telangana Union of Working Journalists (TUWJ)has lodged a complaint against various attacks with Director General of Police (DGP).
NUJ(I) said: "We strongly condemn these assaults on journalists and urge the central and state governments to ensure the safety of journalists when doing their job."

IJU said: "IJU demands that the government of India give strict directions to police and security forces to respect freedom of press and help journalists who are covering the pandemic so that the society has access to unbiased and accurate information."
IFJ said, "Since journalists provide essential news and information to public in this global pandemic, they must be exempt from ongoing restrictions. Police attacks on journalists for alleged breaches of the lockdown are of great concern."

Written By

IFJ Asia-Pacific
The IFJ represents more than 600,000 journalists in 140 countries.
For further information contact IFJ Asia-Pacific on +61 2 9333 0946
Find the IFJ on Twitter: @ifjasiapacific
Find the IFJ on Facebook: www.facebook.com/IFJAsiaPacific
Comments